In this episode, Rick Davis is joined by Keim President Jim Smucker, a 2021 LBM Journal Dealer of the Year, to talk profit as a yardstick, success through helping others succeed, leadership listening, and more. Thanks to our sponsor, DMSi.
Regulations imposed by all levels of government account for 23.8% of the current average sales price of a new single-family home.
To provide contractors, deck building pros and do-it-yourselfers with a high value, enduring steel framing solution, consider stocking the Evolution steel deck framing system from Fortress Building Products.
Rising material costs and supply shortages along with expected increases in mortgage rates are likely to exacerbate affordability challenges in the year ahead.
One tool, with three interchangeable heads, provides consistently accurate installation along with increased speed and safety.
Kevin Silveira joins The Lester Group from National Lumber Co., where he was vice president of sales.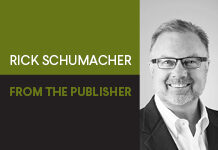 Our list is constructed to provide you with exactly what we hope everything we produce provides: a comprehensive look at what other LBM pros are doing and how their experience may give you insights to help you build your sales, your business, and your brand.