LBM Journal's Dealer of the Year Awards recognize three LBM companies of different sizes that epitomize the entrepreneurial spirit. By our definition, a Dealer of the Year describes a company in which leadership excels at identifying underserved—or emerging—markets, satisfying customers, and constantly working to grow and improve business.
Our 2019 winners—Sunroc Building Materials, Howe Lumber, and Taylor's Do it Best Building Supply—represent vastly different operations. The common thread in these companies is their fierce commitment to finding ever better ways to serve their customers and their communities.
Service builds success at Sunroc
Customer Service at Sunroc Building Materials extends far beyond the friendly greeting customers have experienced walking through their doors since the Utah-based company was founded in 1937. It is a major building block and one of several key areas of focus that form the foundation for the company's long-term success and has led to the company being named an LBM Journal Dealer of the Year for 2019 in the sales over $50 million category.
"For us, quality and service are the market entry fee," Sunroc president Greg Templeman says. "Yes, the level of quality and service has to be competitive, but we differentiate through unique programs and memorable interactions that build customer relationships and drive loyalty."
Even at a company that generated more than $215 million in revenue last year, a friendly greeting as a customer enters the store is essential to this service-centered business. With service as the foundation, the first floor is quality products. Sunroc, with its 375 team members, excels selling materials across multiple product categories, including building components in 12 locations throughout Utah and Idaho.
Building components
Sunroc's headquarters location in Lindon, Utah, which manufactures trusses, added wall panels in 2016. As the only independent building materials dealer in Utah doing so, Templeman says Sunroc is "blazing a trail that is frequently bumpy and steep."
"It's a tough space," says Templeman, who joined Sunroc as a vice president in 2015. "The primary challenge is field labor. We have achieved significant efficiencies and cost reductions in the manufacturing process, but if the framer does not see the value in wall panels in the form of a lower per square foot cost, it's hard to make it work financially.
"We can't continue to build homes the same way we did 100 years ago. We're trying to be more progressive and lead the movement into building components in our market. We are encouraged to see well-funded new companies such as Katerra and Entekra with much larger footprints move the market in this direction."
In bringing on new builder customers, Templeman says that they stress the benefits of building components, including improved and tracked quality control, a predictable and controlled manufacturing setting free from weather-related delays, and an accelerated build time which allow for a quicker deployment of capital to the next development.
"Building components are a great start to solving the housing affordability crisis," he says.
Pricing profiles
With service as the foundation and quality materials as the first floor, an innovative pricing strategy is a solid second floor. Sunroc's objectively unique pricing model ensures all customers receive a price reflective of their importance, scale and behavior.
Every customer at Sunroc is assigned a pricing profile that informs every quote they receive. This allows Sunroc to quote customers across fair and objective factors, removing the emotion so commonly associated with pricing.
The profiles are comprised of a rating across four categories that consider a number of factors including volume, product mix and customer behavior.
Sunroc keeps a pricing profile for every one of its customers, Templeman says. "A customer's profile is not fixed, we make adjustments to reflect the customer's ever-changing characteristics. It's generally the responsibility of our sales reps or location managers to adjust a profile.
"We're not afraid to let a customer know what their profile is. In fact, we encourage full pricing transparency," Templeman says. "If they ask 'how can I get a better price' we tell them. Pricing profiles require our sales reps and managers to think more objectively and actively manage price—skills critical in a recently highly volatile lumber market. Do I adjust and/or audit pricing profiles? Absolutely. Periodic audits are key to making sure the power of profiles is realized."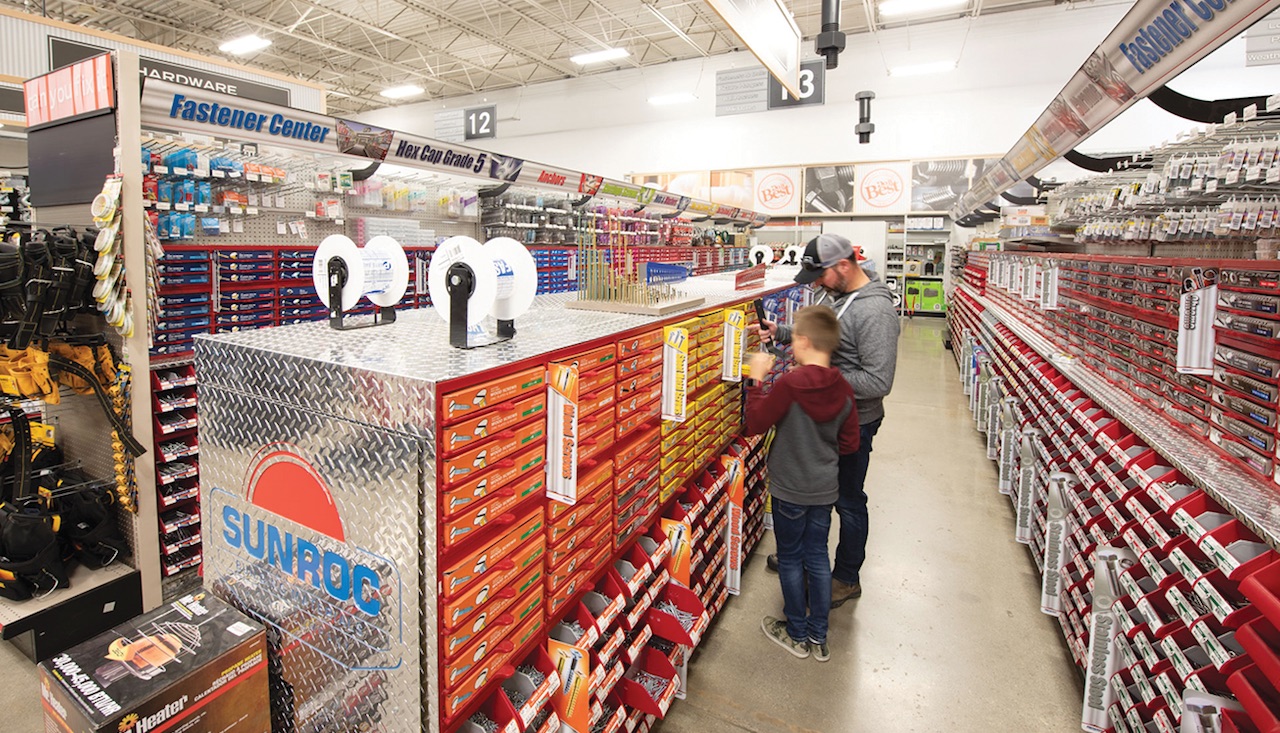 Customer rewards program
The final floor in Sunroc's success is the company's loyalty program. While loyalty programs in and of themselves aren't unique, the program Sunroc has developed goes well beyond what is considered industry standard and has allowed the company to develop truly loyal customers.
For customers, the program is straightforward, easy to understand, and flexible in its reward redemptions and options. For Sunroc, its structure incentivizes customers to pay invoices on time and enables the company to build long-term relationships with customers.
"We recognize how important relationships are in our business," Templeman says. "Our rewards program helps them see our complete value proposition, as well as how much we value them."
"The Sunroc rewards program is supported by logic tied to payment timeliness," Templeman says, but essentially it comes down to a points system. For every dollar a customer spends at Sunroc, they get one rewards point. If a customer does not pay an invoice within terms, they don't get the points associated with the value of that invoice. If they are really late paying they can lose points. It's a great way to encourage payment within terms and for those who do, the reward is substantial.
"We'll take them on a trip. A full five-star experience," Templeman says. "Our goal is for them to never open their wallet unless it's for a personal expense. We provide a VISA gift card to cover incidentals such as luggage fees and meals on the way there, and once they arrive, everything is on Sunroc."
But these aren't trips to the local minor league baseball game or even a hunting weekend with a sales rep. Sunroc's biggest draw to its rewards program are the trips, which take place a few times a year, with destinations including Tahiti, Hawaii, Ireland, Thailand, Puerto Vallarta, and more. The company has three trips to Tahiti already planned for 2019. Templeman says the customers appreciate the opportunity to get away and to mingle with other builders in their market where they share common experiences and learn from each other.
"We encourage the customers' spouses to come and they almost always do Would you pass on a free trip to Tahiti? And we have found that both are very appreciative of the trip because it's sometimes a trip they would not have taken otherwise," Templeman says.
While the customers take advantage of the trip options, the program is also a way for Sunroc to manage customer satisfaction as well as incentivize on-time payments.
"We both see the value in it," Templeman says. Customers can also redeem points for a private, family trip with the travel agency that Sunroc uses to arrange the trips or just redeem points for a gift card.
A significant portion of Sunroc's marketing budget is used for the trips. Budget that some companies may put toward print advertising and digital marketing instead builds loyalty and tops off a service-based customer experience.
"That signature trip is a way for us to send some of our sales reps and managers to help them build better relationships with our customers and ensure our customers have a fivestar experience," Templeman says.
All 375 of Sunroc's team members are keenly aware of how these three core competencies—building components, pricing profiles, and an innovative rewards program—build on the company's history of success and continue to feed into a uniquely service-driven experience.