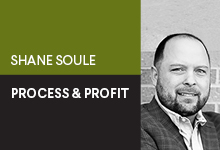 Younger, less experienced builders with expertise in new home trends and marketing are on the rise. They're replacing the "boomer" builders who started out as framers and worked their way up in the industry developing a wide understanding of construction skills and abilities over time.
These younger builders pride themselves on responding to rapidly and consistently changing trends as the rise of technology (via apps like Houzz and Pinterest) creates endless ideas. This means tech savvy builders count on suppliers more and more for technical, structural, and estimating support.
One growing trend is the request for "guaranteed" or "contract" prices for material packages. Why? Their decreased technical and structural knowledge reduces their confidence around both what they need to order and how to check itemized quotes for accuracy. When they get caught over-shipping on a project, and these negative variances affect their profitability, the prospect of "one price guaranteed" starts to become very appealing. This guaranteed pricing structure has become the norm in commercial supply, but not on the residential projects, as more liability potentially passes from builders to suppliers with respect to quantity and accuracy of takeoffs. I understand this resistance, because I was once a supplier who wouldn't do it—and when it was required, I allowed myself to walk away from the business. However, I soon realized it became my preferred way of selling jobs.
Here are some of the big advantages with not only embracing these requests, but actually proactively selling this packaging concept to your customers.
Selling a service, not a commodity. Are you only selling a "list" of materials like the box stores, or are you supplying a service that just so happens to also include material delivery?
Protecting your hard-earned design/estimate. We've all had the experience of doing multiple takeoffs and multiple revisions after multiple meetings with the builder and homeowner, only to watch the customer send all the engineering and design "whited out" to a competitor to get an "apples-for-apples" bid. The problem is that it's not apples-for-apples, because the competitor starts bidding with a fraction of the cost into the project. Not cool.
Burying some additional "services" in your pricing. I'm a big proponent of solving issues and pain points—even those outside of the supply scope. I've had great success telling a customer that if they commit 100% of their business to me, I will cover all costs of prints (or something else outside of my scope that has tangible value). In a guaranteed package, you can bury this cost more easily than trying to raise commodity pricing and hoping that they won't check your piece pricing.
Creating an additional barrier of entry for competitors. In the beginning of this article I mentioned that a high percentage of suppliers will not guarantee their package price. Well guess what? That shrinks the competition in your market for this kind of offer. And generally, when a customer tries package pricing, they don't want to go back to itemized.
TIPS FOR GETTING THE MARGIN YOU EXPECT ON THESE JOBS
Start with the proposal
Setup a "contract" in your ERP
Eliminate the waste factors on shipping
Send detailed ship lists and header maps
Create a solid closeout process
If you are hesitant to go this direction but are intrigued with the opportunity, try it with a core customer. Be open about it with them and explain the potential benefits, especially as it relates to the concept of the guarantee. Once you close out a couple jobs, you will get better at the process and more assured of your expected outcomes. You'll be ready to release it to your market with confidence in no time.
Shane Soule consults with LBM and component companies to increase productivity and profits, and improve the experience for both customers and team members. Reach Shane at shane@shanesoule.com