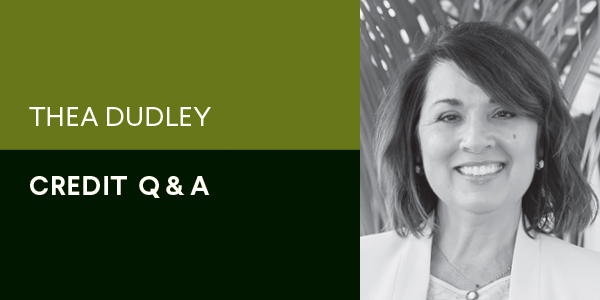 Dear Thea,
I always have those "shoulda, coulda, woulda" moments after meetings but thought I had it covered. I had made a list of notes to myself of items to bring up during the webinar we did, Credit Goes to the Dark Side. I had a point I really wanted to share about credit augmenting sales. I blew it! I passed over it.
You have probably forgotten this incident, but not too long after I started at the company, you and I went to Atlanta to visit a customer about a large credit line. We were going to review their financials. During that meeting you discovered they had another business that used products we also sold. Our sales rep didn't know about the other business or the sales potential, but in the financial review, you uncovered it. Usually, sales reps concentrate on a single item or materials line: roofing, insulation, drywall, etc. You built on those items and got the customer to commit to buying additional lines for the other business from us and gave them a bigger credit line than they initially wanted.
After the customer meeting, we went back to the branch and you told the branch manager about the outcome of our visit. He was tickled pink! Credit gave the customer a higher credit line just by seeing they had other assists in their financials. That was eye-opening for me, and even though it was few and far between that I was able to do that, it showed credit managers do work for the betterment of the company as a team (with sales) and not just risk management (or collecting money or saying NO).
Fast forward to my life as an owner: I was at a supplier's branch picking up an order, and while I was waiting for it to be pulled, I walked around and saw they had stacks of product I purchase from another vendor. I mentioned it to my rep, who responded, "Ryan, I didn't know you used that." Our vendor sales rep thought we only did deck-related projects (we do additions, porches, etc.) and had been missing a major opportunity.
In credit, we deal with all kinds of companies that do a variety of things, so we end up almost being more diverse in knowledge about our product lines than some of the sales reps, or a rep who specializes in one specific line or section of the business.
We never got credit for those additional sales, but we did gain street cred from the rep and branch manager. They knew we were all on the same team and shared the experience with others. Just goes to show, growth comes from unexpected places and working as a team pays off.
— Ryan Spencer with Exterior Escapes, LLC
Dear Former Credit Manager,
How does that saying go? It's never too late to include a great "credit brings value" story. Ok, maybe it isn't really an actual saying but it should be. This is a great real-life example of what can happen when everyone is on the same team, communicates, and asks for help. Thanks for the reminder and feel free to share credit wisdom anytime, my friend.
With more than 30 years of credit management experience in the LBM industry, Thea Dudley consults with companies on a wide range of credit and financial management issues. Contact Thea at theadudley@charter.net