Home
Authors
Posts by ECI
Unlock the business solutions of ecommerce to help your business take the next step towards growth and success.
Building on the foundation of last month's e-Commerce 101 webinar, Shane Soule will discuss how to "Bridge the Gap" from concept to execution of your e-Commerce strategy. Shane will discuss how to plan for success by helping you consider a strategy that includes marketing, merchandizing, process, and resources.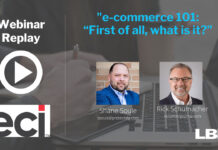 Is your competition taking business from you through their e-commerce platform and you aren't sure how to implement, or even where to start? Join Shane Soule as he covers the basics of how e-commerce has arrived in our industry, and is rapidly changing the way our customers interact with us.
Lean improvement opportunities are everywhere in our businesses and not just in our yards and manufacturing areas. An often unnoticed and undervalued opportunity for lean improvement is our internal methods of communication.
Is your business open or are you considering reopening to employees, the public, or both during the pandemic? If so, you'll need to make sure that your reopening plan is consistent with applicable local and state orders, and that you are ready to protect everyone in your business—especially those at higher risk—from contracting the virus.
Do you budget a percentage of inventory shrink and call it acceptable? What if you could cut that "acceptable" number in half? Join Shane Soule to improve your processes and convert loss to gain.
Material handlers in our yards are crucial, not only for our customers experience, but also for a couple percentage points of our cost. In this 30-40 minute webinar, Shane Soule will analyze material handler activities and suggest some changes that could seem small, but over time, add significantly to your bottom line.
This paper briefly explores the emerging office layout and professional working models that are emerging, as well as the statistics that underlie our present understanding of the impact of COVID-19 on workplaces and our projections for the future of our workplaces.
Investing in new technology is a cost-effective and scalable way to get the most value from your staff and drive efficiency throughout your organization. By removing low-value or redundant tasks from your operation, you can get more done with the same workforce. Your staff will be able to focus on activities that help your business grow, rather than getting bogged down in busywork that wastes valuable time.
Progressive LBM businesses are leveraging mobility solutions to empower their employees. Cashiers and other frontline workers, traditionally underserved with digital access, are becoming increasingly important to their businesses as mobility becomes the new norm. These businesses use mobility to drive competitive advantages and increase market share.