Home
Authors
Posts by Epicor
In this webinar, Lean Expert Scott Morrison will share the insights and strategies he's used with LBM dealers across the U.S. to ensure that delivery trucks spend as much time making deliveries as possible. The result is increased efficiency and profitability.
Together, they explore some of the powerful credit tools available in today's LBM software platforms, as well as specialized software if you're looking for a solution beyond your ERP's capabilities. They talk about demos, and how to conduct a life-cycle cost analysis—to learn how long it'll take to pay for new software. If your business relies on healthy A/P and cashflow (and whose doesn't?), you won't want to miss this free webinar.
There is a lot of opportunity to top grade your team members and build bench strength for your tough-to-fill positions right now.
Keep Your Business Healthy: Top 5 Strategies LBM Dealers and Distributors Should Pursue During This Trying Time
What products are out there, what gaps or processes can we apply it to, how can we determine the right product for our needs and how the credit pros on your team can leverage it?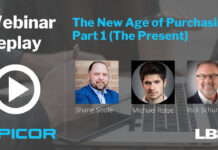 Technology is changing our industry at a rapid pace and helping us become more efficient, with access to more information than ever before. This reality coincides with the fact that as seasoned purchasers leave the industry, their knowledge base, skillset, and "unwritten processes" go with them.
In light of states opening back up, learn what LBM businesses are doing right now to thrive in a contact-less environment regarding employee safety, business operations, and communication.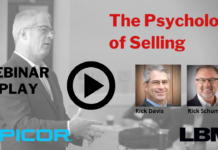 Has the recent pandemic created new fears about our sales future or merely revealed the existing ones we bury beneath the surface? This is the question Rick Davis answers in our webinar.
In this webinar replay, Rick Schumacher welcomes credit guru and LBM Journal columnist Thea Dudley back for a lively discussion on credit, cashflow, and surviving the COVID-19 crisis.
Rick Schumacher welcomes operations and productivity expert Shane Soule of LBM Partner Services and Graham Rigby of Epicor to share insights on how to manage the productivity and performance of team members who are working remotely.