Home
Authors
Posts by Epicor
Keep Your Business Healthy: Top 5 Strategies LBM Dealers and Distributors Should Pursue During This Trying Time
What products are out there, what gaps or processes can we apply it to, how can we determine the right product for our needs and how the credit pros on your team can leverage it?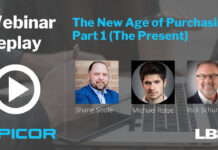 Technology is changing our industry at a rapid pace and helping us become more efficient, with access to more information than ever before. This reality coincides with the fact that as seasoned purchasers leave the industry, their knowledge base, skillset, and "unwritten processes" go with them.
In light of states opening back up, learn what LBM businesses are doing right now to thrive in a contact-less environment regarding employee safety, business operations, and communication.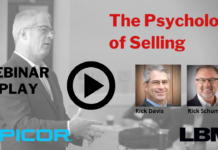 Has the recent pandemic created new fears about our sales future or merely revealed the existing ones we bury beneath the surface? This is the question Rick Davis answers in our webinar.
In this webinar replay, Rick Schumacher welcomes credit guru and LBM Journal columnist Thea Dudley back for a lively discussion on credit, cashflow, and surviving the COVID-19 crisis.
Rick Schumacher welcomes operations and productivity expert Shane Soule of LBM Partner Services and Graham Rigby of Epicor to share insights on how to manage the productivity and performance of team members who are working remotely.
In this webinar replay, Rick Schumacher welcomes Kimberly Simonson and Steve Linn (two LBM pros with extensive experience working remotely) to help you turn the "new normal" of working from home into a positive, productive experience. Session will conclude with live Q&A.
In this webinar replay, Rick Schumacher welcomes Ariela Wagner, founder of SunRay Construction Solutions, a national online construction documents service and software company, to share insights and steps you should take to protect your lien rights.
In this webinar replay, Rick Schumacher welcomes LBM Journal's resident credit overlord Thea Dudley to learn what other dealers are experiencing, and how we can all best prepare for the inescapable fallout--which includes your cashflow and your accounts receivable.