Home
Authors
Posts by Fortress Building Products
Fortress Building Products
One of the many allures of today's composite and PVC decking is that it emulates the natural wood grain aesthetic and richness that standard wood deck boards provide, but lacks the propensity to warp, crack or deteriorate over time.
Resistant to moisture and the effects of weathering, the sleek structural steel is dual layer protected against fire, corrosion, twisting, insects and rot.
Dealers and distributers can maximize profit margins by stocking the entire backyard package, and with it, wood-alternative deck railing systems.
To meet demand and win over customers in today's competitive marketplace, consider introducing a new fencing material to your inventory.
As builders look to meet this demand for new homes, many will look for materials that can deliver on both performance and curb appeal.
To provide contractors, deck building pros and do-it-yourselfers with a high value, enduring steel framing solution, consider stocking the Evolution steel deck framing system from Fortress Building Products.
Meet customer demand ahead of a frenzied spring deck building season by stocking wood-alternative building materials from Fortress Building Products.
Provide your customers with alternatives to traditional wood decking with Fortress Building Products' premium outdoor living solutions.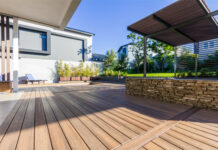 Gone are the days of simple, boxy deck designs and basic landscapes. Today's homeowners and builders are creating bold, beautiful open-air spaces that defend against the ordinary