Home
Authors
Posts by Fortress Building Products
Fortress Building Products
As builders look to meet this demand for new homes, many will look for materials that can deliver on both performance and curb appeal.
To provide contractors, deck building pros and do-it-yourselfers with a high value, enduring steel framing solution, consider stocking the Evolution steel deck framing system from Fortress Building Products.
Meet customer demand ahead of a frenzied spring deck building season by stocking wood-alternative building materials from Fortress Building Products.
Provide your customers with alternatives to traditional wood decking with Fortress Building Products' premium outdoor living solutions.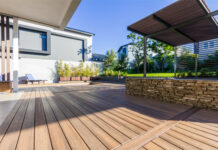 Gone are the days of simple, boxy deck designs and basic landscapes. Today's homeowners and builders are creating bold, beautiful open-air spaces that defend against the ordinary