Home
Authors
Posts by Humboldt Sawmill
Fast-growing natural durable softwood species, such as redwood, offer advantages in terms of carbon sequestration and efficient energy usage, among others.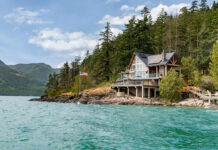 On the point of Cascade Peninsula, the entrance to Cascade Bay on Harrison Lake, B.C., stands a recently remodeled home with exceptional views of the lake and surrounding mountains.
What started as a simple desire for an outdoor fireplace quickly expanded into an outdoor kitchen, living, and entertainment space, capped by a stunning, custom-built redwood timber pergola.