Home
Authors
Posts by Humboldt Sawmill
Travis Johnson, principal of Dream Big Construction in Lafayette, California knows a thing or two about wood.
Nestled in the heart of California's world-famous wine country is Sonoma Raceway, a world-class motorsports facility home to one of six road courses on the 2022 NASCAR Cup Series race schedule.
Humboldt Sawmill Douglas-fir rough and S4S stock are available in a range of dimension, grade, and length structure to fit your customers' needs.
An excellent alternative to Cedar timbers, Redwood timbers are well-suited for applications including arbors, barns, entryways, pergolas, and shade structures.
Allweather Wood ranks as the largest waterborne preservative treated lumber and plywood manufacturer in the western United States.
Humboldt Sawmill supplies an excellent mix of Douglas-fir products, all of which are graded and stamped.
During pandemic-induced shutdowns the winery turned to a wide-ranging remodeling effort to improve guest amenities for the day shutdowns ended and business operations normalized.
Fast-growing natural durable softwood species, such as redwood, offer advantages in terms of carbon sequestration and efficient energy usage, among others.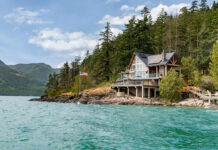 On the point of Cascade Peninsula, the entrance to Cascade Bay on Harrison Lake, B.C., stands a recently remodeled home with exceptional views of the lake and surrounding mountains.
What started as a simple desire for an outdoor fireplace quickly expanded into an outdoor kitchen, living, and entertainment space, capped by a stunning, custom-built redwood timber pergola.