Home
Authors
Posts by LBM Journal
The Spring Market will be available exclusively online from March 7–19.
Dave Anderson succeeds Craig Bradshaw who has been Mead Lumber's president & CEO for the past 14 years. Bradshaw will continue to serve the company as a member of its Board of Directors.
Led by solid gains in single-family production, overall housing starts increased 4.9% in October.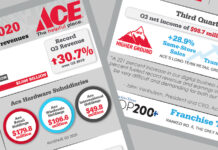 The record third quarter results follow Ace's record second quarter.
Fortress Infinity CBPC cladding, the company's latest product category, is a co-extruded bamboo-plastic composite developed to offer effective moisture-resistance and inspiring wood emulation in...
Parksite will distribute Maibec shingles across New Jersey, New York, the Midwest, and the Southeast United States.
Recessions, pandemics and general elections – if the past and present economic environments have not convinced you to view commercial credit reports as a vital part of your credit program, nothing will. Checking out who you are doing business with and keeping tabs on them credit wise is critical. Saying it is easy, doing it requires a few steps and solid information.
LBM Advantage's virtual Annual Buying Show is scheduled for Feb. 22-24, 2021.
Simpson Strong-Tie has received a Pro Tool Innovation Award in the Drills/Drivers-Decking, Cordless category for its Quik Drive PRO200SG2 multipurpose system. The new Quik...
Through its Frederick, Maryland facility, BlueLinx will offer the full line of MoistureShield decking products to their dealers in this region.