Home
Authors
Posts by LBM Journal Branded Content
LBM Journal Branded Content
With an exceptional offering, Avalon Aluminum Railing from RDI and Huttig brings your customers lasting beauty and durability, as well as easy installation that will save them time on the jobsite.
Easy to cut and roll tight against corners, the material's patent-pending honeycomb design easily installs with ½" staples or nails and offers a smooth, flat surface for optimal cladding application and compression resistance. 
San Francisco Bay Area-based master landscape designer, Michael Galli knows a lot about joyful landscapes. For the past 30+ years, Michael and his company, Metamorphosis Landscaping, have designed and constructed some 200 landscape projects in the greater Bay Area.
While fostering a discrimination- and harassment-free work environment has always been important to good employers, it has become an even greater priority in recent...
AZEK Trim with PaintPro Technology is ready to paint as soon as you are. It doesn't need priming or sanding or special treatment of any kind, saving you hours of prep work. It even dries faster too, ready to handle in as little as 30 minutes.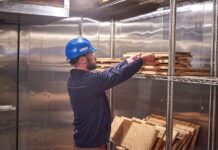 Like most building materials, all sub-flooring panels undergo some measure of product testing before they're introduced to the industry. But a few panels go even further.
Huttig is taking the guesswork out of deck fasteners with Huttig-Guard Platinum Outdoor Screws.
WindowWrap, manufactured by MFM Building Products, is a patented series of self-adhering and self-sealing window flashing tapes designed to prevent the infiltration of water, moisture, air and sound into the building structure.
From Florida to Washington state, inclement weather continually poses a variety of problems for architects, builders and homeowners alike.
Business income insurance, also known as business interruption insurance, provides policyholders with coverage that reimburses their business for lost income caused by a covered loss.