Home
Authors
Posts by LBM Journal Branded Content
LBM Journal Branded Content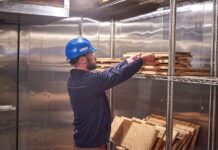 Like most building materials, all sub-flooring panels undergo some measure of product testing before they're introduced to the industry. But a few panels go even further.
Huttig is taking the guesswork out of deck fasteners with Huttig-Guard Platinum Outdoor Screws.
WindowWrap, manufactured by MFM Building Products, is a patented series of self-adhering and self-sealing window flashing tapes designed to prevent the infiltration of water, moisture, air and sound into the building structure.
From Florida to Washington state, inclement weather continually poses a variety of problems for architects, builders and homeowners alike.
Business income insurance, also known as business interruption insurance, provides policyholders with coverage that reimburses their business for lost income caused by a covered loss.
Considering the whole system as a unit allows dealers and their builder-customers to sell buyers on performance and, perhaps, higher performance levels.
Create something truly unique with TimberTech Decking and Railing.
Stier's focus on fast turnaround and customer service allows the Stier sales team to demonstrate rapid response to inquiries on pricing and availability
The architectural beauty of a Therma-Tru door from Huttig is easy to see. But a Therma-Tru door with genuine Therma-Tru components is more than a beautiful door—it's a complete door system.
Improve your sales! August 31 is your last chance to claim your FREE expo pass to discover new products and trends at the building industry's biggest event.