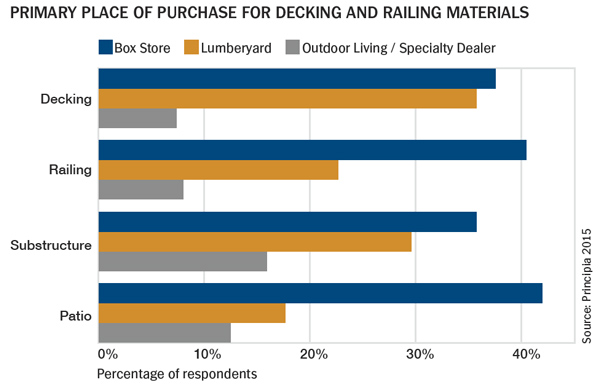 Over the years, decking and railing has been a steady performer in the repair and remodel segment. Homeowner desire for outdoor living topped the list of exterior home improvement projects in research conducted by Principia. The survey shows 66% of respondents recently completed (in the past 12 months) or plan to build or replace a deck in the next 12 months, followed by patios at 51% of respondents, painting (41%), window replacement (31%) and roofing replacement (26%) to round out the top five project types (Note: multiple responses were permitted in the survey with nearly 600 homeowners).
Demand for decking and railing in North America reached nearly 2.75 billion lineal feet with a factory gate value of over $4 billion in 2014. Decking accounted for more than 90% of total volume but railing represented 48% of the value since it's sold as a finished system at a higher selling price.
As homeowners have become more discriminating with respect to design, aesthetics and long-term performance, decking and railing manufacturers have responded with a seemingly endless number of new collections and product options. Homeowners and contractors have come to rely on selecting exactly the product they want to install for a decking or railing project. Contractors are using special orders for a growing number of decking projects, representing a third of their decking and railing spend based on recent survey with 225 contractors.