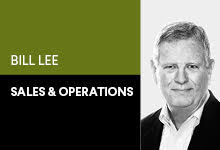 Talk about a lifestyle change…this is it. Not just a few of us, not just owners and managers, but every one of our lives has been affected in some way by the arrival of the coronavirus, and I believe we have a way to go before we return to normalcy. But we will return. Don't allow yourself to lose faith in that. The big question many of us are struggling with is what do we do, and how do we survive while making the best out of an extremely volatile situation?
I'm sure everyone reading this article has an opinion as to what is the best way to spend your time in this kind of environment, and I am no exception. We all need help, but I believe it's our customers we should concern ourselves with the most as they try to figure out what to do and when to do it.
Be a servant to your customers
I believe our customers are in the most need of a servant, someone who has their best interests at heart, someone who is not looking for credit, but someone who is just looking for some way, no matter how small, to help builders cope.
Where would you start you might ask? I know if it were me, I would start by making a list of builders and one by one, give them a telephone call and try to learn where and how they need help considering their individual sets of circumstances.
Become an expert
What questions are each of them struggling with? What proactive steps can they take to best protect their crews and keep them safe? Do they have members of their crew who are quarantining themselves because they've been exposed to someone who they believe may have infected them and the builder is short-handed? He may need help finding carpenters, framers, etc.
This is a time for us all to pull together. There are co-workers, contractors, and subs who through no fault of their own are undependable right now. Odds are that the source of the problems most people are having to deal with are easier to identify than the solutions. If you uncover a problem you have run across for the first time, maintain confidentiality, but make it your business to help the affected individual find a solution.
Be positive
There will be those among us who see all of this as insurmountable, they may be discouraged, if not depressed. There will be salespeople who cannot see the good that presents itself in times of trial. Those of us who have been around this industry for most of our lives are no strangers to deep recessions when two months ago it was difficult to get material and even more difficult to find qualified labor. Now, all of a sudden, the near future is uncertain.
A crisis can be an opportunity
As for me, I have found more new business in these kinds of times than I ever did when business was booming. Now is the time when salespeople who are blessed with a servant mentality have an opportunity to offer advice and counsel to builders and tradesmen who need a shoulder to lean on. There's not one of us who does not have value to share.
In doing so, stay safe, maintain a safe distance for the protection of not only you, but those with whom you are interacting. Be a role model for safety. Avoid shaking hands at all costs, wash your hands more than you believe is necessary, discipline yourself to keep your hands away from your face, sanitize everything that could present a threat before you touch it. Don't take chances.
Keep the faith!
Bill Lee is a respected sales and business consultant in the LBM industry. For more information, contact Bill at leeresourcesinc@gmail.com.