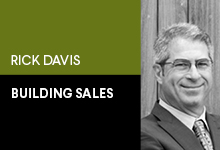 Inspect what you expect. It's an old rule of leadership and yet, many managers never take the time to follow this simple piece of advice when it comes to managing outside sales representatives. This is particularly important in an industry in which the highest paid employees in an organization and frontline representatives of the brand should be expected to perform according to a measurable standard of performance.
Gerald, a branch manager for a mountain states region dealer, explained during a management retreat how difficult it was for him to hit the road with his salesperson because he always felt understaffed at the branch; subsequently he forced himself to find the time and later reported how embarrassed he was to observe the lack of preparation by his salesperson in the field.
Another manager I consulted with allowed a rebellious salesperson with high sales volume to go unchecked for over a year before finally dismissing him; the manager's customers told him they were wondering what took so long, and fellow employees of this salesperson finally opened up about his lack of follow up.
Countless LBM dealers lament the lack of support they get from their manufacturer sales representatives. In fact, many assert that they would potentially buy more if it weren't for the ineffective representation from some of them. It should be surprising that many of these same ineffective manufacturer sales representatives win sales awards; the real reason for their success is the competence of the dealers who pro- mote their brands effectively despite bad performance.
The real problem is that managers are not taking the time to observe performance in the field. This is why I constantly recommend managers proactively schedule time to determine how well your salespeople are doing when you're not looking. Here are five coaching protocols I recommend.
1.  Give ample notice. A lot of managers believe it is best to surprise the salesperson by telling them at the last minute about a planned ride-along and I agree there is a time for that…later. The first goal of sales coaching, however, is to observe performers at their best. If they can't do it once when you're looking, there is little chance they can do it with regularity when you're not.
2.   Manage normalcy. The goal for a coaching session is not to see the key customers in your market. A manager should allow the salesperson to tour the market by setting up meetings with secondary customers and prospects. This is a powerful way to allow the salesperson to stay in the lead during meetings.
3.  Coaching is quiet. There is an old saying that says you have to break some eggs to make an omelet. You also have to let some bad stuff happen during sales meetings. It is the only way to see what is really happening when you're not looking.
4.  Deliver feedback supportively. Feedback must focus on the behaviors observed—e.g. specific presentations; questions asked; number of meetings scheduled; amount of windshield time; etc. A good coach is focused on helping    a performer improve, not merely looking for mistakes and criticizing them.
5. Praise first. A coach earns credibility by first recognizing all the things that went well with the performance. This is a vital skill for establishing leadership rapport and delivering constructive feedback.
If there is one thing that has been proved consistently in our industry it is that results are not the exclusive, or even accurate, measurement of performance quality. The only way to know what your salespeople are doing when you can't see them is to hit the road with them to see what the performance looks like when you are looking.