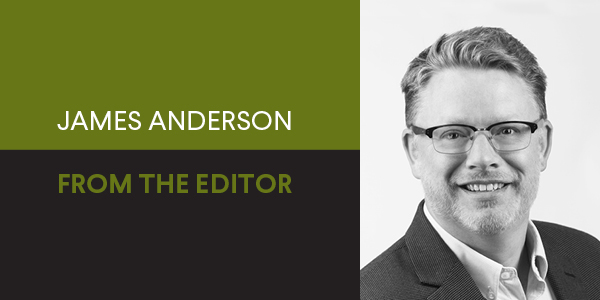 As I interviewed Sunny Bowman for the cover story on Dakota County Lumber here in my home state of Minnesota, the conversation often came back to one simple, yet incredibly important action that most Minnesotans aren't exactly known for doing well—talking about issues.
When Sunny, just a few years out of college, took on a role at her father's lumberyard, one thing she discovered early on is that people around the company weren't accustomed to expressing their feelings aloud. So she demonstrated an open approach to communication, and developed a culture that values an open assessment of processes and a team-wide approach to solutions. Clearly, Sunny's fresh outlook on interpersonal communication has transformed her business. Read more about how she's grown the company on page 48.
Sunny Bowman isn't the only one championing communication in this month's issue. Our Contributing Sales Editor Rick Davis has some great advice about how to approach sales communications in this age of the COVID-19 pandemic. Long gone (at least for a while) are the days of just popping in for a chat at the jobsite, Davis says. In fact, he adds, the newfound world of social distancing and virtual meetings may have just pushed salespeople toward a more efficient and purposeful relationship with their customers. While we're all adjusting to a little less social activity in our lives, the defined purpose of today's business conversations are a benefit to both sides of the transaction.
That renewed sense of purpose in a business relationship is also expressed in Shane Soule's column. As Shane says, embrace your unorganized customers. With builders busier than ever during the pandemic, lumber dealers should take the opportunity to recognize that the frenzied builders are the ones you can help the most and, in turn, develop into loyal customers. Embracing these customers with a "yes we can" culture, as Shane calls it, leads to value shown through exceeded expectations, providing you with the opportunity to increase your bottom line.
On the theme of increasing your bottom line, Scott Morrison shares actionable tactics that demonstrate how adjustments to the flow of trucks on your yard can minimize idle times between loads, and how a realignment of the way your yard operations staff works with drivers can optimize the truck turn process. The efficiencies that Scott outlines can expand your delivery capabilities and increase the profitability of your business.
There is no doubt that the way we do business is changing during the pandemic. We've been forced to find ways to be more succinct and purposeful in our conversations, and efficient in our operations. Whether we want to or not, we're coming up with new ways to do things that—even though they're different than what we've done before—might just stick around after we discover what the "new normal" is that everyone keeps talking about.
James Anderson
Editor