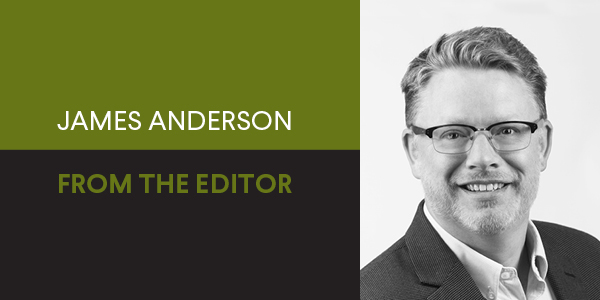 One part of my role here at LBM Journal that I look forward to each month is writing the dealer profiles that we feature in each issue. As my duties have evolved over the years, it's one project each month that I've refused to assign to another writer. I've held on to the task because to me, telling a successful independent lumber dealer's story each month is actually not a task at all. It's a privilege.
That's why I get particularly excited about these next few months. From now through April, we'll be sharing stories of the winners of our 2021 Dealer of the Year program. Normally, that would mean I get to share four dealer stories. However, this year I'm writing five. That's because for the first time since the program's inception we have a tie in one of the categories.
So, this month, you'll find two different covers of the magazine, depending on which side of the country you receive your mail. On the West you'll see Peter Ganahl of Ganahl Lumber, and in the Central and East you'll see Jim Smucker of Keim. Both leaders and their respective companies are worthy of the award in this top category of $100 million-plus in annual sales, so we're honoring them both. (No matter who is on your cover, by the way, both profiles are inside.)
As I mentioned, we're honoring our Dealers of the Year each month through April, and here's the schedule:
JAN. $100 MILLION +
Ganahl Lumber and Keim
FEB. $50-$100 MILLION
Zuern Building Products and Design Center, Allenton, Wisconsin
MAR. $10–$50 MILLION
Hamilton Building Supply, Hamilton, New Jersey
APR. UNDER $10 MILLION
Krempp Lumber Company, Jasper, Indiana
Congratulations again to each of our winners, and thank you to everyone who participated in the nomination process. It is truly a pleasure to share these stories. Each month I learn from each dealer I speak with and I hope that I can convey their wisdom and expertise along to you.
— James Anderson
Editor