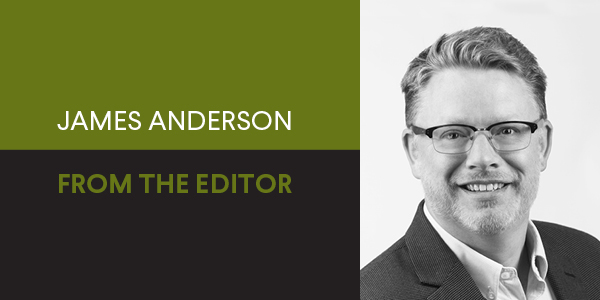 If you're a regular reader of Russ Kathrein's columns in this magazine, then no doubt you've come across a few "Russ-isms," his folksy analogies that take a second to unwrap to discover the business lesson inside. Life lessons are like that as well, and Russ knows how to share them. In this month's column the lesson is in the title itself. "Start digging the well before you're thirsty." I know this is a good life lesson because I've already passed it on to our son in college who called recently alerting us that he may not have worked enough hours to cover some bills at the end of the month. Having earlier that day edited a draft of Russ's column, the saying was fresh in my mind to use as a reminder to our son that he might have considered this scenario when he picked up his very part-time job.
I think of our son (and his younger brother and sister) often when the dilemma of attracting young people to the industry comes up in conversation. More than once I've told them that if they're struggling to find work, I know half a dozen lumberyards within driving distance that are hiring. Of course, just like me at their age, a job at a lumberyard isn't a part of their career plans. Nor was it originally part of Russ's and countless others who have made a fulfilling and rewarding life in this industry. As I'm sure our readers know all too well, it's often just a matter of getting them in the door and letting them see all that the industry has to offer. If you're looking for some advice in that regard, there's plenty in these pages.
Consider Rikka Brandon's column in the February issue. There, you'll learn that when establishing a brand reputation for your company, you should not only consider customers' brand perception, but that of potential employees as well.
In the credit department, Thea Dudley welcomes a newcomer to the industry as only Thea could…by informing them that the LBM industry is not "the land of unicorns and rainbows."
In Shane Soul's column, the topic is company culture and how career-path mapping and a focused recruitment plan can reshape your talent acquisition process.
Rick Davis shares advice on training and promoting from within to build the strongest sales force in your market. Rick offers input on hiring and onboarding employees as well. And, sure enough, he echoes Russ's mantra when he says, "One thing is certain, the sales force you create for tomorrow begins today."
Short of farming my own children out to lumberyards, the best I can do to remedy the labor situation is make sure this magazine addresses the concerns our readers face with experienced, respected industry voices providing actionable advice. I think this issue does that pretty well.
— James Anderson
Editor