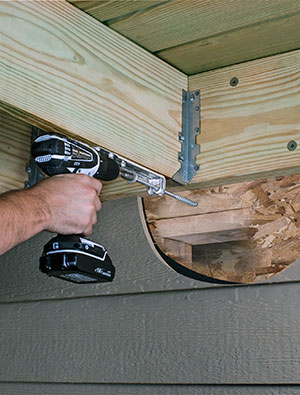 New DTT1Z Deck Tension Tie Provides Alternate Approach to Attaching Decks to Homes.
Simpson Strong-Tie, the industry leader in engineered structural connectors and building solutions, has introduced a new deck tension tie that provides deck builders with a less invasive approach for attaching a deck to a home and meets newly updated code standards.
The DTT1Z deck tension tie is a safe and time-saving alternative that eliminates the need to access floor joists from inside the house. Instead, it is fastened from outside the house. The DTT1Z addresses a new 2015 International Residential Code provision (section [glossary]R507.2.4[/glossary]) that now allows four 750-lb. lateral connectors to be fastened to structural framing joists members in the house. This provision is an alternative to using two 1,500-lb. lateral connections from the deck to the floor joists within the house.
"Our engineering team proactively designed this new cost-effective tension tie to give deck installers a product that would specifically comply with this new code detail. It allows the lateral connection from the deck joists to be made to top plates, studs or headers within the supporting structure," said Sam Hensen, Simpson Strong-Tie vice president and general manager, Core Products Group. "By eliminating the need to access the floor joists inside the house, it not only saves installation time, but also spares the homeowner from the disruption of added construction inside the living space."
The DTT1Z fastens to the narrow or wide face of a single 2x with Strong-Drive® SD Connector screws. The new Strong-Drive® SDWH Timber-Hex HDG screw with an integral washer attaches the tension tie to the supporting structure with a minimum of 3″ of penetration.
Learn more: www.strongtie.com
Information provided by Simpson Strong-Tie