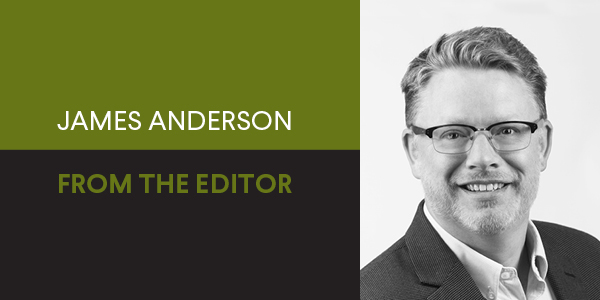 A couple years ago, when news of COVID-19 was just starting to spread, before the virus itself spread to full-blown pandemic status here in the upper Midwest, it seemed there was the general assumption that as case numbers picked up in our local communities, we'd all adjust as quickly as possible, and we'd be back to "normal" in a matter of weeks. At least that's how it seemed where I live.
We all know what happened from that point. Lumberyards were closed, then reopened as essential services in most areas. The building industry found its footing while the remodeling market saw unlikely leaps. Still, even the wisest among us thought that everything would just fall back into place as the pandemic passed. Even industry legend Bill Lee concluded his July 2020 LBM Journal column by saying, "Personally, I'm not wishing for a 'new normal.' Returning to the old normal will suit me just fine."
Through vaccines, antivirals, and plain old looking out for each other, we've come out on the other side with what (knock on wood) is now a more manageable virus. We've entered a busy summer period in which COVID-19 is mentioned as a secondary threat behind supply chain, labor, and inflation concerns. And we've realized we're not going back to that "old normal."
As I've talked with lumber dealers in recent months, I've learned that what we considered "back to normal" at the beginning of the pandemic has been redefined. The dealers I've spoken with have long been back in business, they're serving customers, they're making a difference in their communities, but they're doing it a little bit differently. What stands out most to me are stories of how businesses have found a renewed focus on employee care and retention. This isn't to say it wasn't a focus before the pandemic, but "The Great Resignation" and a rise in work-from-home opportunities has led many companies to reevaluate where employee wellness falls on the mission statement.
As labor shortages continue in many markets, workplace culture is leading off job ads as a way of getting quality employees on board. We're seeing more mentions of flexible schedules, bonus programs and other perks listed right along with higher salaries. We're seeing employee care programs as, what Bill Lee says in this month's column, "the best cure for a labor shortage." Bill says it best when he writes, "The best people gravitate to the companies that prove every day that they genuinely care for their employees."
There are a number of companies in our industry doing just that, and by doing so have been named Best Places to Work in their markets. You can learn from one of them in particular, Matt Ellis,VP of talent management & marketing for DW Distribution, a wholesale distributor that was a recipient of the 2021 Gallup Exceptional Workplace Award. "Like building a home, there is a process to building an exceptional place to work," Matt says. His session at LBM Strategies 2022 in Denver this October will give you a blueprint to achieve your culture goals.
This year's LBM Strategies conference agenda is filling up quickly with speakers like Matt who can help you make employee care a pillar of your workplace culture. See the complete conference agenda at lbmstrategies.com, and register soon. If you have any questions about the conference, please reach out to anyone here at LBM Journal.
As Bill Lee says this month, "Make your people feel as if they are green and growing. Increase their value by investing in their growth and development."
Those are wise words to live by in our "new normal."