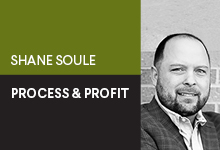 Would you believe me if I told you that you could substantially and easily improve your profit, and you probably already have all the tools you need in place? Get ready. I am going to do just that, by helping you identify the least profitable 15% of your business and by shedding some light on your profit goals.
Historically the distribution side of our industry is antiquated in many ways. Our two main tools for guidance over the years have been simply guesstimates and gut feel. We have relied mostly on our prior month's financials as a North Star to guide decisions to improve profitability.
For example, cost is defined as the amount we pay for the raw materials that we sell. Margin is the percentage we use to markup cost to get to break even, and profit is what we hope is left over as we cross our fingers and jump to the last page of the month-end reports once our accountant finally finishes them. We use guesstimates and gut feel to decide how to price, to estimate if a customer or job is profitable, and to gauge whether we are heading our profitability in the right direction. The good news is you are probably closer than you think to identifying the least profitable 15% of your business and implementing a plan to improve it.
Technology has significantly improved our ability to understand our true costs at the transaction level, but we haven't consistently built these insights into our decision making. GPS software, ERP  integration,  dashboards, and SmartViews (online, real-time analytical tools) now allow us to extract a dollar amount relative to actual operational costs. With a little setup, it can even be automated so it's available at your fingertips.
When analyzing cost structure, I've identified the three most variable operational costs that, when tracked, narrow gross margin down to a more defined and accurate net margin that clearly shines a light on profitability. On top of "the price you paid on the PO," the cost of delivery, material handling, and all-in sales costs give you a micro and macro view reflecting more complete, as well as highly accurate, profitability measures.
Delivery: Calculate your fleet's historical average "dollars per hour costing" by adding trucks, trailers, driver and dispatch burdened compensation, insurance, fuel, and maintenance. Then divide by actual driving hours in a measured period using your GPS software. This should net you around $75-$150/hour. Use your dispatching software to track the time it takes to deliver each order and credit. Build a SmartView with a table that takes those hours and multiplies your trucking cost to get a true delivery cost per transaction that can then be sliced and diced by transaction, job account, customer, etc.
Material Handling: Follow a similar path by adding up material handler burdened labor, forklifts, propane, MH materials costs, and Calculate the sales dollars of only sales that required material handling (don't include direct or retail sales) to come up with a material handler cost per handled sales dollar. Add this metric to the SmartView.
Sales Cost: In the SmartView, add in commission paid per transaction to the OSR if application. You can go a step further and add in additional costs unique to specific sales reps (i.e., with coordinators and estimators), since each sales rep uses a different level of additional resources that could equate to another 2-3% in cost. Then add in applicable credit card fees and discount terms as well.
Adding those three variable cost buckets will allow you to see that one customer with the same gross margin as another may track a loss of 5% while the other one records 5% profit after all these costs are accounted for. Now you can analyze your job accounts and customers to identify the least profitable 15% of your business and come up with a targeted game plan to increase the profitability in the right areas. Tracking and utilizing this data provides a consistently bright light on profitability as you analyze performance, and it drives better decision making–creating your easiest and highest ROI action plan for a glowing future.
Shane Soule consults with LBM and component companies to increase productivity and profits, and improve the experience for both customers and team members. Reach Shane at shane@shanesoule.com.