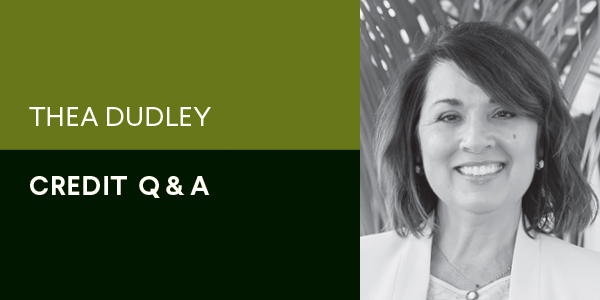 Dear Thea,
We have seen credit card fraud attempts on the rise recently, mostly with call-in orders. Short of asking the customer to send in a copy of their driver's license and copy of the credit card front and back, are there any less restrictive approaches out there? Our inside sales teams are getting screamed at for repeat requests.
— Fighting Fraud in Fort Worth

Dear Fraud Fighter,
Isn't creativity awesome? Just when you think you have a process and all is well, along comes the right combination of economic factors (COVID-19, more online orders) to get those less-than-honorable types to kick the creative juices flowing into high gear.
Credit card fraud has long been a challenge, but it seems to rear its ugly head full force when opportunities present themselves, and nothing says ripe for the picking like right now.
Unfortunately, you will have to get more restrictive. In talking to other credit managers, I see that the problem is growing. Several recent "card not present" transactions have processed with no red flags. They asked all the right questions, gathered all the required data: complete address match, zip code, and security  code. They still ended up being fraudulent.
So, what is a credit manager to do? Put additional measures in place. If the order is being placed by someone who doesn't have an account or who is not known to your company, ask them to email you a copy of the actual credit card, front and back, along with a copy of their driver's license.
If they say they can't email, and would rath- er fax it to you, it could still be a red flag. I like having their email address as one more check point. The push back on that is the old "I don't have a scanner, so I will need to fax it over." Ok, big boy, fax away. I will be scrutinizing that fax and tracing the number it comes from like I search my house for chocolate. Not a cabinet missed, including the freezer.
If something just sounds "off" and the order is suspicious, tell them they are required to bring the card into the branch so it can be processed on-site. How a customer reacts to your requirements speaks volumes. Typically, the louder they roar, the more guilty they are.
I hate walking away from a sale, but I really hate giving away products and services for free, especially to someone who outsmarted me with their criminal mind. Take the necessary steps to protect your company and make that sale safely. If they lose their stuffing on you, the best decision you can likely make is to walk away.
With more than 30 years of credit management experience in the LBM industry, Thea Dudley consults with companies on a wide range of credit and financial management issues. Contact Thea at theadudley@charter.net