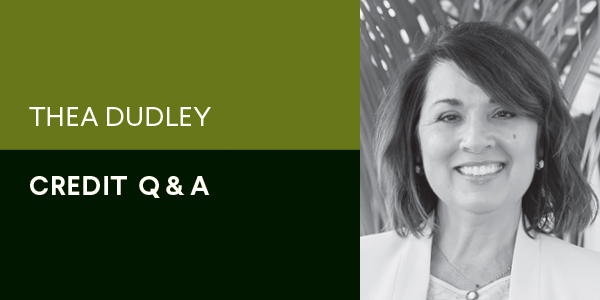 Dear Thea,
I am managing a credit department by decision paralysis. I am trying to do my job but frankly every time I turn around, I am second guessed, sent back for more information, or worse told that they are going to think about it and get back with me and then I don't hear about it again. Everyone thinks they know more about my job than I do. At this point I am not even sure why they hired me. How can I do my job if I'm not allowed to do my job?
— End of My Rope in Elgin
Dear Rope's End,
Tie a tight knot and hang on. Change takes time. You are not only changing what they know to be true about credit granting, securing, and collecting, but also changing their entire credit culture. You are ready; whoever hired you apparently is not.
First thing first: Manage your expectations. If you thought you were going to show up and everyone would recognize your mad credit managing skills, you were deluded. Next, man- age everyone else's expectations of you. A few things to keep in mind:
You don't have all the answers.
Don't even try to fake it.
Don't disrespect your predecessor.
Watch Find out why they do what they do.
Practice active listening, ask questions and take notes.
Don't change things immediately. Everyone is happy to see someone new, they are positive, glad you are there and excited to see what you bring to the table…until you begin to set the table. Take the time to learn the current processes. Read everything you can about the company you are now a part of, including sales guides, policies, the website, etc. Seek to under- stand the culture of the company.
Assess any resources that you have: outside resources, internal resources. Make notes of those you can go to and for what. Identify your obstacles. Keep taking notes.
Put a "first 90 days" plan together. Prioritize it into strategic areas: People, processes, your market, the company, and key products. Set benchmarks for yourself in that 90-day period. Don't feel pressured to walk in with all the answers or a complete strategy. Why? Because it could be wrong, incomplete, or it could lack buy-in from the rest of the team.
When your 90 days are up, prepare for your next steps. Outline a strategic plan for your department. What do you want to tackle first? What did you identify as a priority? Why? Again, set measurable goals for yourself to accomplish in the next 90 days.
Keep in mind that change, however small, is tough for some people. Keep from spooking the herd by listening and learning. Oh, and snacks. Bring lots of snacks and bring the good ones. That helps assure people are happy to see you.
With more than 30 years of credit management experience in the LBM industry, Thea Dudley consults with companies on a wide range of credit and financial management issues. Contact Thea at theadudley@charter.net