Clean, upscale aesthetics dominate in a market experiencing soaring demand.
The great architect Frank Lloyd Wright once said, "Simplicity and repose are the qualities that measure the true value of any work of art." His words could easily be used to describe the current state of the deck railing and accessory market. Current trends indicate homeowners are looking for simple lines, clean design, and a refined sense of style. They're apparently also looking to build decks in record numbers, and that's driving the sales of railings and accessories like never before. In a pandemic world, deck railings and accessories mean money for the LBM dealer who is prepared.
High demand, higher potential
While COVID-19 created a roller coaster business environment for many industries, it unexpectedly caused a massive surge in home improvement, particularly for creation of (or upgrades to) outdoor spaces. Families cancelled travel plans and instead embraced the "stay-cation" mindset and re-invested travel funds into their homes. And as lockdown policies forced people to spend an increased amount of time in their backyards, they discovered that the more time they spent there, the more time they wanted to spend there. "Homeowners are engaging in home improvement projects to make their homes as enjoyable and multi-functional as possible," says Katrina Ralston, president of Feeney Inc. "People are embracing their outdoor spaces, in particular, and the demand for decks is on an upswing."
Jeff Schulz, vice president of channel sales at Fortress Building Products, agrees. As he explains, "With COVID-19 lingering longer than many had initially hoped, consumers have shifted much of their discretionary spending from areas such as travel, to the enhancement of their personal outdoor living spaces."
Jase DeBoer, senior marketing manager for Deckorators, also sees the pandemic as a major influencer in how homeowners chose to spend their money in 2020. "As the pandemic postponed trips and limited interactions to computer and phone screens, millions of people started to spend more time than ever within their property
lines," he explains. "Many U.S. homeowners invested in new decks as a way to expand and personalize their living space. Trend-forward composite decking, railings and accessories helped deck builders create unique getaways at home—an exterior family room, an outdoor dining experience, a staycation spot, and more."
So what does this increased demand from last year mean for the coming building season? Manufacturers see good things coming. "Just as we saw the DIY market explode in 2020, we expect this trend to grow even more in 2021," says Craig Smalley, national brand manager for Wild Hog Products. "The pandemic created an atmosphere of stay-at-home orders, but in turn renewed the appreciation for outdoor living and backyard projects. We feel this appreciation and need for creative, customizable and simple products will cause record sales in 2021."
Fortress Building Products' Schulz also predicts growth. "Looking ahead to the next 12 months," he says, "housing sales and starts will continue driving industry growth as we see families pushing for more outdoor living space traditionally found in suburban markets. Industry research tells us that consumers will invest in big ticket items such as new decks to fully utilize their backyard."
The potential for pain
This anticipated growth is not without a cost, as it has the potential to bring pain for the LBM distributor, especially in regard to product supply and availability, price fluctuations, and the availability of crews to handle homeowner demands. "Homeowners invested in expanding their outdoor living spaces which benefited our industry," says Heather Bowman, marketing director for Superior Plastic Products and Key-Link Fencing & Railing. "Unfortunately, the pandemic also brought supply chain challenges, and raw material prices were up and extremely volatile, which affected our pricing, too. These issues appear to be industry wide."
Manufacturers point out that the supply chain simply wasn't ready to handle the sustained growth that 2020 brought on, and it will remain a challenge in the coming year for them to ramp up sufficiently to handle the demand. "Factories are just now starting to catch up and any overseas orders are having issues with container availability and transportation issues," explains Roland Pfender, CEO and president of Absolute Distribution Inc. (ADI), which markets and distributes DekPro Prestige Aluminum Railing, DekPro EFFEX lighting, DekPro InvisiCable, and DekPro Aluminum Balusters. "The U.S. can't gear up fast enough to bring all manufacturing back on shore, and frankly, many of the products produced overseas are what manufacturers in the U.S. don't want to produce."
And, of course, there's the unpredictable nature of the pandemic itself. Depending how it unfolds during the 2021 building season, it could signal sustained growth or a shrinkage of homeowner spending. "If stimulus continues and the pandemic gets under control, we expect steady growth," points out Key-Link's Bowman. "If the economy retracts, we expect to see business slowing, too, as homeowners will be less willing or able to spend on home enhancements like porches or decks."
Upscale aesthetic drives trends
All of this potential growth doesn't mean, however, that people are spend- ing willy-nilly on outdoor spaces sim- ply to create a bland canvas. Rather, they are looking for deck railing and accessory products that create clean, simplified lines that provide unobstructed views, an upscale feel, and a trend-forward approach in aesthetics.
"With people spending more time at home and the associated growing investment in outdoor living," explains Feeney's Ralston, "we're seeing more emphasis on creating decks and patios that are unique and personal. As with indoor spaces, homeowners are seek- ing out interesting finishes and designs that create a distinctive look and allow them to express their individual de- sign style. For example, newer railing options such as laser-cut aluminum panel infills create a fresh aesthetic when compared to traditional railings with wood balusters. Homeowners can even request custom laser cut panels, which add a lot of design flexibility."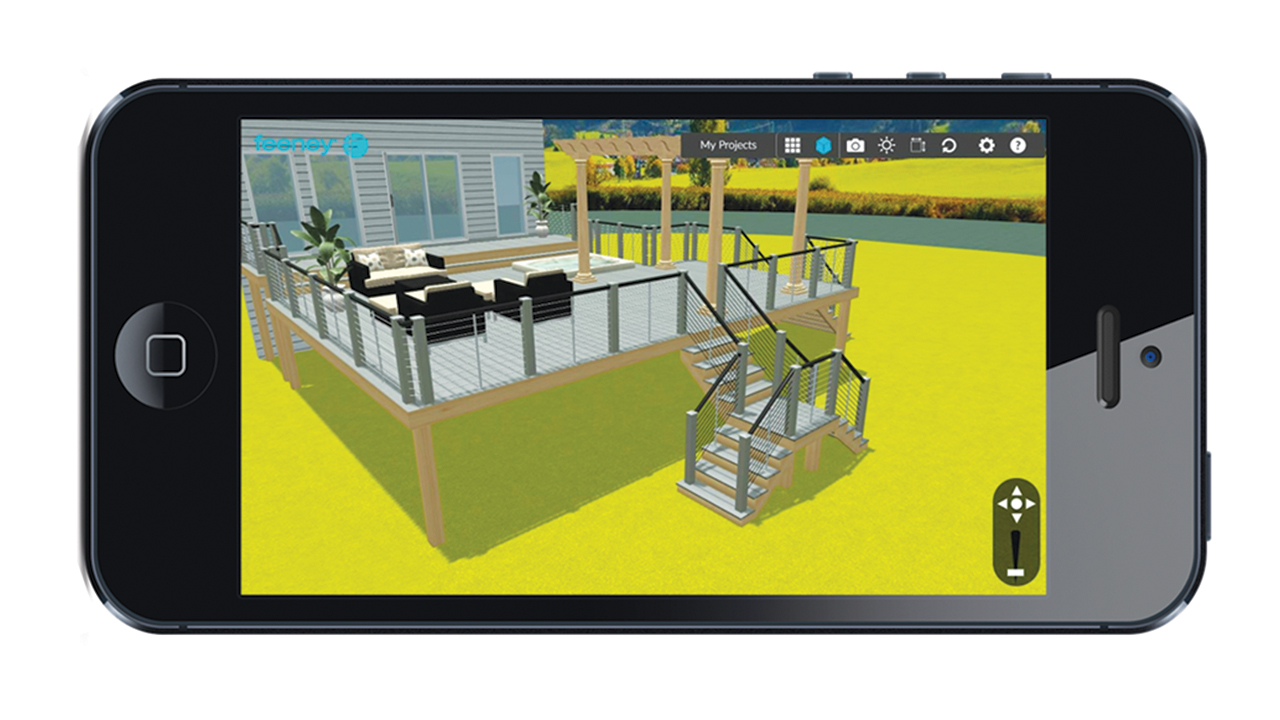 One railing product trend that is gaining momentum because of its ability to offer unobstructed views is cable rail. As Ralston goes on to explain, "After all, if you're able to spend more time outdoors enjoying your view— whether that's your backyard or the ocean or mountains—you want to be able to fully experience and appreciate the scenery and connection with nature. Cable railing not only preserves the view, but creates an elegant, clean- lined look while requiring only minimal maintenance. Those factors make it a very appealing option for many homeowners."
Aluminum components such as posts and lighting fixtures are also in high demand because of the upscale feel they create. "Simplified railing systems, such as pre-assembled aluminum railing and cable railing, continue to gain momentum," says Deckorators' DeBoer. "Lighting options such as stair lights, string lights and lighted post caps are becoming a common way to add ambiance to an outdoor space, creating the vibe of restaurant dining or a café experience."
Lindsey Fox, director of marketing for RailFX, points out how mixing materials continues to gain in popularity for exterior designs from furniture to lighting to surface to decking and railings. "The use of contrasting materials like wood and metal into one design offers customers a chance to mix their love of modern and traditional into one fresh look," she explains.
In contrast to mixed materials, however, Fox also sees a trend toward colors that seamlessly blend so as to match the home's architectural style. To match that trend, manufacturers are starting to offer railing components in custom colors. As she explains, "While our four stock colors align and complement the decking industry offerings, we think it is equally essential to offer our customers custom colors with specific designs."
And not surprisingly, products that offer low maintenance are still in high demand. "We are seeing demand in low maintenance products overall," says ADI's Pfender. "In specific categories like horizontal baluster railing (aka rod rail) appear to be the next big thing. Discriminating consumers are looking for something different and like the esthetics of the rod rail into aluminum railings or stainless steel."
Fortress' Jeff Schulz also sees in- creasing demand of low-maintenance railing products, particularly when it comes to aluminum. "We're seeing the emergence of aluminum railing products," he points out. "The once unassuming offerings have been replaced with low maintenance solutions that provide elegance and effortless style without the propensity to decompose from tough weather, including ice, snow, rain, and UV rays."
Technology to the rescue
Perhaps it's bad form to use an analogy of Pandora's Box during a pandemic, but some things, once unleashed, can't be put back in the box. Such is the case with e-commerce. According to the U.S. Dept. of Commerce and estimates from Digital Commerce 360, consumers spent $861 billion online with U.S. merchants in 2020—that's a 44% jump in spending year over year, and it's the highest annual U.S. e-commerce growth in at least two decades. Says Fortress' Schulz, "Research tells us that in light of the pandemic, 35% of customers would rather purchase a company's product without interacting with a salesperson."
Sadly, many LBM distributors have been slow to the game in adopting e-commerce tools to provide the buying methods that more and more of their customers want. And it's a mistake that LBM dealers cannot afford to make. "COVID-19 is driving a generational impact on consumer purchasing, with a massive shift towards e-commerce transactions," continues Schultz. "To stay competitive, LBM dealers need to embrace business models that allow them to meet new consumer buying preferences. At minimum, a 'buy on- line, pick pp in-store' program should be put into place."
Key-Link's Heather Bowman agrees. "Technological upgrades to ordering and planning projects are extremely helpful," she points out. "Anything that can be done quickly on a phone or tablet. It's great for a contractor to be able to quickly run the numbers and get a price to a homeowner, or just place their product order online and be done."
Say 'yes' to the homeowner
While the bulk of deck railing and accessory sales for many LBM dealers come from the pro buyers, the DIY crowd is turning out in record numbers to the same sources as the pros for their projects. In a series of consumer surveys by The Farnsworth Group and the Home Improvement Research Institute, numbers indicate that, by June of last year, almost 80% of homeowners reported they started a DIY home maintenance, replacement, repair, or remodeling project. And a 2020 Bank of America study found that more than 70% of those polled had decided to tackle home improvement projects during the pandemic, with more planned for 2021.
Adding fuel to the fire of the DIY surge in deck projects is the unavailability of pro crews for projects. As Deckorators' Jase DeBoer points out, "Many building professionals are already booked well into the summer of 2021 with decking and outdoor living jobs."
To best take advantage of this changing face of business, manufacturers recommend LBM dealers develop strategies that include embracing DIY sales as part of their revenue formula. "I believe now and more than ever, dealers need to listen to their customers and track their needs," says Wild Hog Products' Smalley. "Dealers should be understanding who their customers are and what's driving their decisions. Dealers should also be looking to expand and invite new segments of customers. DIY is the perfect example. Dealers in 2020 that had DIY-friendly products saw incredible growth from a segment of business that normally was intimidated to walk through their door."
So, what can the LBM dealer take away from all this information? When it comes to deck railings and accessories, they can expect a potentially wild ride for the coming year. Radically increasing demand for outdoor living spaces  will  certainly  place  stresses on manufacturers to keep up, but that doesn't mean the LBM dealer will suffer. Rather, by preparing for the demand with an array of products to meet these challenges can yield surprising—and profitable—results.
Michael Berger is the former managing editor for HANDY Magazine and has been writing about home improvement and construction for the past 20 years.