With builders desperate for products that provide efficiency, engineered wood products stand ready to deliver.
In 1922 when Howard Carter discovered and first peered into the underground tomb of King Tutankhamun—or King Tut as you may know him—he was anxiously asked if he could see anything. When he replied, "Yes. Wonderful things," he was looking at treasure made in part of engineered wood, a building material that was commonly used by the ancient Egyptians to produce everything from furniture to funeral shrines to the innards of the tombs themselves.
Egyptian pharaohs aside, engineered wood products remain a popular, growing product segment of the building industry. According to MarketWatch's Engineered Wood Product Market – Global Industry Analysis, Trends and Forecast 2024, which was published in April of this year, the worldwide engineered wood product market is projected to be on the rise through 2024 thanks to the environment-friendly nature and sustainability of the products.
Having said that, when compared to building stats from just 12 months ago, things aren't so rosy. According to the U.S. Census Bureau and U.S. Department of Housing and Urban Development's most recent report of new residential construction, privately-owned housing starts in May were at a seasonally adjusted annual rate of 974,000. This is 4.3% above the revised April estimate of 934,000, but it's 23.2% below the May 2019 rate of 1,268,000.
Still, in the face of those statistics, there's a sense of cautious optimism from manufacturers. "Even though we've heard of some customers and builders who were hit harder by COVID-19, sales have continued to be strong in the single-famly and multi-family segments," explains Charlie Robinson, vice president of marketing for Huber Engineered Woods (the makers of ZIP System). "This is primarily driven by the growth of new housing stock, as we believe that demand for lumber and panels generally tracks with increases in new construction starts. As the country opens up even more, we foresee this steadily growing over the next year."
Wendy Minichiello, North American director of EWP sales for Weyerhaeuser, echoes those insights. "We've reset our expectations for 2021 due to housing starts and COVID-19 implications for the economy," she says. "For our EWP products, however, we're excited about growth opportunities in other customer segments such as industrial and mass timber."
The demand for efficiency
For quite a few years now the building industry has been dealing with labor shortage issues. With the current challenges brought on by the COVID-19 environment further reducing the workforce, it has become more important than ever for builders and remodelers to work as efficiently as possible. As a result, they're looking for products that can help speed project completion time.
Jeff Yelle, director of OSB/EWP at LP Building Solutions, explains that builders are looking for products that save jobsite time. "Builders are able to meet tight deadlines by using supplies that are focused on both durability and team productivity," he says. "In light of the pandemic, productivity will be very important to builders to be able to make up for lost time."
Cameron Bailey, LP SmartSide senior brand manager, also sees installation efficiency as a trend on the rise and points out the importance of products that can help. "We are seeing an increased demand for efficiency," he explains. "That reason directly played a role in the product development for our new prefinished option, LP Smart-Side ExpertFinish Trim & Siding, which features the LP SmartSide Expert-Finish Lap Joint to reduce the need for most seam caulking, joint molds or pan flashing at butt joints to further improve workability and efficiency on the jobsite."
But it's not just the products themselves that are becoming more efficient. Technology is answering the efficiency call and making it easier for builders to work smarter. "We are analyzing data and focusing on being more efficient as well as focusing on our software services and support," says Vita Vazquez, marketing specialist for Boise Cascade. "Our software allows us to meet code standards simply by running all your material through our program which saves our customers time and money."
For example, Boise Cascade's Draft Mode feature in its proprietary BC Framer software allows users to complete their layouts more quickly by giving them the ability to temporarily suspend the complex structural framing connectivity calculations until they have finished drawing a portion of the structure—a real efficiency benefit for larger projects such as multifamily buildings and hotels where the calculations become time intensive due to the quantity of framing members.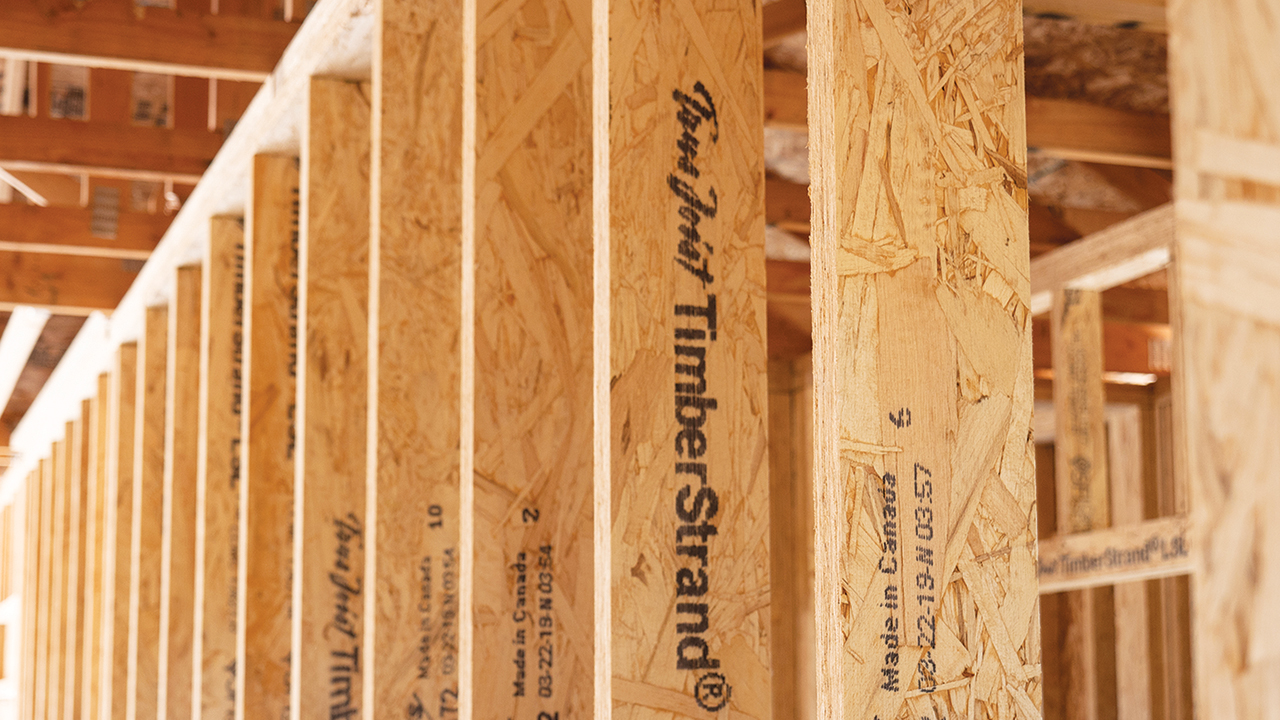 It should come as no surprise, then, that builders are extremely interested in products and technology that can deliver on efficiency promises, and the successful LBM distributor needs to stand ready to provide such products. "Builders are looking for brands from well-resourced companies that have the strength and infrastructure to consistently provide products with all the supporting services that may be required," explains Weyerhaeuser's Minichiello. "Those services include the ability to f lex supply up or down to meet demand, and a strong commitment to quality backed by an experienced team to support in-field needs."
And when it comes to efficiency, it's not good enough to be a one-trick pony. Rather, it's the product lineup that can solve multiple problems that will yield the most sales. "Builders are looking for products that have multiple benefits—having just one key benefit isn't competitive anymore," points out LP's Yelle. "Finding products that can minimize corrections on the job and deliver quality construction is a huge advantage for builders."
Better relationships, better sales
All the promised efficiency in the world won't matter, however, if the customer isn't given proper product support by their product suppliers. Builders often make purchase decisions based on technical support, and it is vital that LBM dealers provide product knowledge, both through the knowledge base of their staff and with backup from the manufacturers.
"A motivating factor that can help incentivize trial for premium engineered wood products is dependable technical support that also helps mitigate risks that builders may perceive inherently coming with switching from their current product choice," points out Weyerhaeuser's Minichiello. "Our team of technical application specialists and engineers augment local sales team support for installation instruction, design specification and code compliance questions."
Boise Cascade's Vazquez agrees. "We know deciding on products comes down to many things, but we remain focused on building relationships and offering high quality products, services, support and software. Customers know Boise Cascade EWP solutions will perform and install quickly but it's the people, the strong relationships and the ease of doing business with us that makes the difference."
One of the easiest ways to provide this support is through relationships, and as manufacturers point out, the most successful LBM distributors are the ones who take the time to get to know their customers as well as the products they sell. Oftentimes, the customer is turning to engineered wood products to solve a very specific problem or situation—more so than with other product lines—and it's through the trust that forms by building relationships that the distributor can best sell to the customers' needs.
"Dealers have an incredible opportunity to discuss and grow relationships with customers," explains LP's Yelle. "Dealers should educate customers on how to handle engineered wood products to get the most out of them. Engineered wood is durable, but being careful with it is key to extend the lifespan and minimize callbacks. Protecting panel ends from moisture, always transporting with tarp or other wrap, and storing engineered wood under a roof are some ways LBM dealers can ensure that their customers get the most out of their products."
Weyerhaeuser's Minichiello also stresses the importance of relationship building. "I think there are many very talented dealers that do an excellent job in this area," she says. "The best create a valuable niche (or two) and work with customers to build long-term relationships and mutually profitable businesses."
The evolving face of training
Because of the unique properties and installation requirements of many engineered wood products, and due to the dramatic impact COVID-19 has had on gathering in groups to learn, manufacturers are launching more and more innovative training tools  for their product lines. "COVID-19 has forced the entire industry to adapt," explains LP's Bailey, "and that includes how we approach training."
For example, because of COVID-19 LP Building Solutions has transitioned to virtual training events that feature The Kruse Brothers. "Feedback has proven the virtual training sessions to be just as effective, if not more effective, than in-person training, "says LP's Bailey. "We've actually seen an increase in attendance—likely a result of the convenience factor of a virtual event."
In the case of Boise Cascade, it has added live webinars (available on its CEU webpage) to its education courses that are AIA accredited. Says Boise Cascade's Vazquez, "We want to make sure that we stay engaged with our customers, provide excellent customer service, and keep the customer updated on any new tools regarding software."
For Weyerhaeuser, it embraced the challenges that the COVID-19 crisis presented and chose to see it as an opportunity for investment in increased online customer training. "Not only did we have time to invest in improvements in this area," explains Minichiello, "but our customers and the industry had time to take advantage of it. The results of our online programs have delivered a myriad of subjects, including many with AIA certification. We look forward to getting back in front of our customers, but we love the format."
It's not all virtual, however. Huber's Charlie Robinson points out that the company's proprietary Home Building Crossroads seminars continue to see strong attendance numbers every year. "The event series has grown to include more cities and speakers," he says. "The full-day event offers architects, builders, and code officials an opportunity to explore changes in local codes and how design and construction practices have evolved, with the guidance of some of the most notable names in the industry in building science and architecture."
While it may be impossible to predict what the short-term future may hold for the engineered wood segment, the compass needle for long-term growth seems to point in a positive direction. Instead of focusing on the downside of the current environment, LBM distributors can instead focus on long-term growth by investing in their own knowledge and bolstering their relationships with their customer base— investments that can yield dramatic and sustainable results.
As LP's Jeff Yelle says, "With an ever-changing economic landscape, it's especially crucial that products allow builders to be efficient with time and resources. In the next year, we will continue to see industry change at every level. And while dollar spend may stay relatively stable, where builders and owners choose to invest their money is expected to change." By continuing to stay on top of the knowledge base and by maintaining an inventory of engineered wood products that deliver on efficiency, LBM distributors can expect, like Howard Carter did when he opened King Tut's tomb, to see wonderful things.