Rising concerns for maintaining a healthy home spur category growth.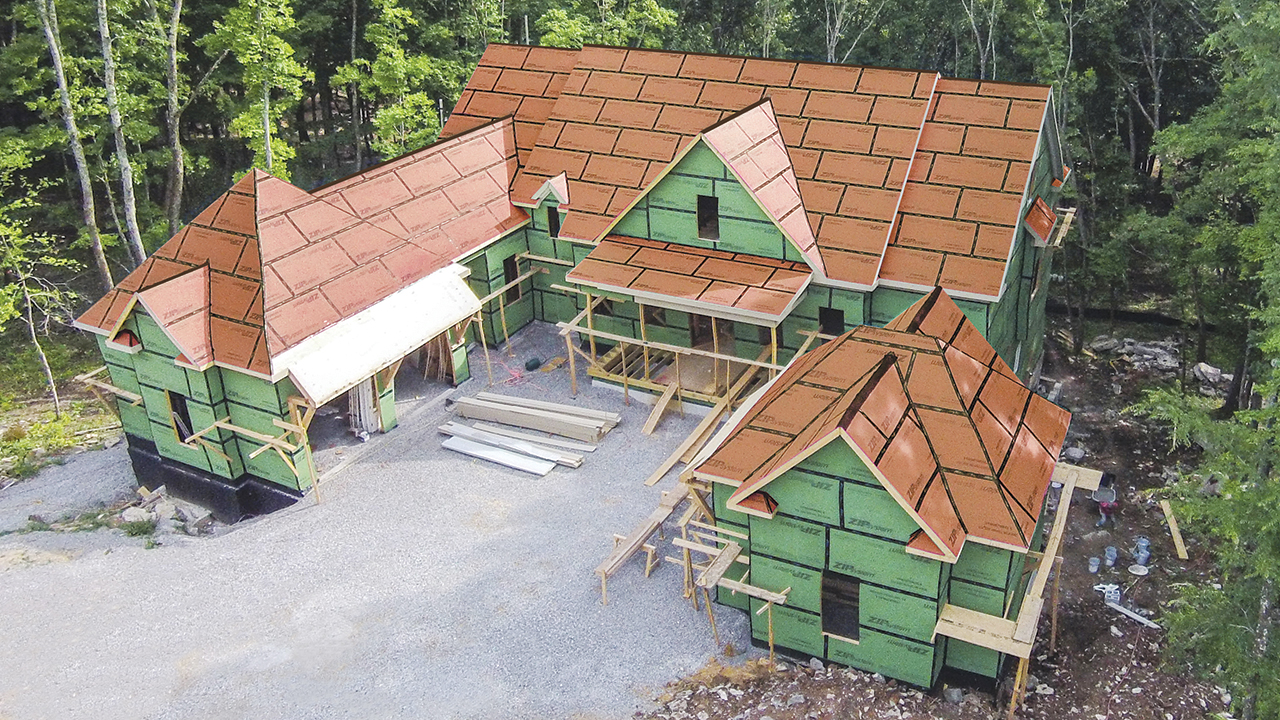 Since our species first started to build mud huts, we've looked for ways to make them warmer, drier, and free of drafts. When Neolithic man built his homes on Skara Brae in the Orkney Islands off the coast of Scotland 5,000 years ago, he banked the walls of those homes with earth to protect himself from the driving winds and rain. After that came dried eelgrass, reeds, and thatch. But it wasn't until the 19th century that we figured out how to create insulated panels from processed organic materials. Finally in 1920, the American Celotex Company introduced insulating panels made of bagasse (a waste byproduct of sugar manufacturing). After a few years the company began coating those panels with asbestos, and the modern insulation industry was born.
Insulation and housewrap have come a long way since then, and it's easy to think that the current state of the category is a plateau from which there's nowhere else to climb in regard to innovation and growth. But the data says otherwise, and manufacturers are quick to rise to today's unique challenges with labor-saving solutions.
Healthy growth in unhealthy times
However you look at the state of the building industry these days, it's impossible not to see the massive impact of COVID-19. Interesting enough, numbers show a trend that you might not expect. According to the U.S. Census Bureau and the U.S. Department of Housing and Urban Development, privately-owned housing starts in September of 2020 were at a seasonally adjusted annual rate of 1,415,000—1.9% above the revised August estimate of 1,388,000 and 11.1% ahead of that same period last year.
Coupled with that is overall building growth, a rapidly-increasing desire driven by the current pandemic to create homes that are as air-tight, mold-free, and healthy as possible. "We're seeing more builders seek to go above and beyond code requirements," says Allen Sealock, general manager of ZIP System Products, "particularly in air barrier areas, as it's a component of their long-term efficiency distinction for homebuyers. Tight homes discourage air from moving through the walls, which helps control temperature and air quality in the home."
Due to remote in-home work and learning environments and government-mandated stay-at-home orders, people are spending more time than ever in their houses. As a result, they look to their homes as both haven and personal sanctuary, and this is driving demand for insulation and barrier products that deliver higher than ever performance. "The idea of home has become even more important during the pandemic," says Craig Miles, director of national sales and marketing for OSB/EWP for LP Building Solutions. "People look to their homes for safety and comfort. Given pent-up demand, low inventories, and the continuance of low interest rates, the sheathing segment is likely to continue growing. Within the segment, I also believe that value-added products will continue to gain momentum. Builders are looking for and need solutions that support the strain the hot housing market has placed on them."
Brittany Burns, director of product management for Georgia-Pacific, also sees the changing role of the home as a major driving factor for the growth of the insulation and housewrap categories. "COVID-19 has redefined how we use our homes, and has also unexpectedly helped to spur even stronger growth in new home construction than was predicted," says Burns. "The use of an integrated sheathing can help the builder get a home up quicker by removing an extra trip around the structure, as well help them use less labor for the additional building wrap step."
These growth factors are not ones that will be quick to disappear. Even after the effects of the COVID-19 pandemic and been effectively dealt with, it's unlikely that we'll quickly return to the state of the world as it was, and in many ways that bodes well for this product category. "These are unpredictable times," explains Xuaco Pascual, director of construction and building science for Tamlyn, "but the building industry has had some interesting surprises. Demand for housing has exceeded expectations in 2020 with inventory down in most locations across the country. Building permits continue to show strength into 2021. These factors, combined with attractive lending are expected to continue modest growth through 2021."
Innovative systems a growing trend
With the insulation and housewrap category poised for growth, certain product trends are emerging that LBM distributors need to be prepared to provide for. For example, according to Grand View Research, Inc., the global structural insulated panel market is expected to reach $640.4 million by 2025. "We see steady growth in the acceptance and usage of integrated structural sheathing with a water resistive barrier/air barrier like ForceField Weather Barrier System," says Georgia-Pacific's Burns. "These solutions not only help to keep water out while allowing vapor to pass and the structure to breathe, they also act as a superior air barrier compared to building wraps. This helps to make the home more energy efficient."
ZIP System Products' Allen Sealock agrees. "It's been reported that home-builders have been more amenable to trying new products during the COVID-19 pandemic," he says. "Some reports suggest that shifts in product ordering habits to online amongst construction professionals might be leading to a willingness to try new solutions. At Huber, we've seen both a growth in our new product users and repeat users."
As mentioned before as a growth-driving factor, air quality and overall home health is also a growing product trend that manufacturers are quick to address. Products that allow for air exchange and moisture management are in increasingly high demand.
Scott Tennison, global director for Kimberly Clark, explains it like this, "As we all know, respiratory illness is something that continues to increase in discussions and prevention. Air quality in your home is very important for long term health. Many people focus on filtration in their HVAC equipment, but they forget that if you have mold or rot going on in the wall cavity due to the house wrap not performing the way it should, it could have an impact on your health. Using a quality house wrap that is breathable can help protect your home from mold and have more benefit than just protecting the structure. It can also potentially help to maintain a healthy overall air quality in your home."
Tamlyn's Pascual points out the use of a drainable housewrap behind most cladding systems as another growing nationwide trend that's being spurred by the desire for healthier air quality. "Originally developed for use behind EIFS cladding systems, these drainable products are proving beneficial behind most cladding systems, in particular behind cladding materials that can absorb any appreciable moisture," he explains. "Energy efficiency and air tightness standards have made cladding and wall systems more vulnerable to moisture related issues with fewer margins for error, and drainable housewraps facilitate better moisture management and in some cases enhance ventilation behind the cladding."
All of these factors lead to an overarching product and building methodology trend that many manufacturers recognize as possibly the most important trend today—resilient building products and design. Don't confuse this concept with green building (although they're related). According to the Resilient Design Institute, resilient building is "the intentional design of buildings, landscapes, communities, and regions in response to vulnerabilities to disaster and disruption of normal life." In short, it's the building of a structure that is robust in design and utilizes products that are strong, work together as a cohesive whole, and provide for redundancies in performance that allow a home to quickly return to normal function in the event of a product failure.
As Jeff Yelle, director of technology for LP Building Solutions, explains, "I believe we are going to see a continued convergence of resilient design and resilient solutions. No building solution performs independently—each component of a building is connected with and complements other components. I expect that we'll see less focus on the resiliency of individual products, and more focus on how a system of solutions works together to add resilience to a structure."
Know your stuff
Being able to explain to the customer how a given product reduces installation time and manpower needs, especially in light of a diminished work-force—a situation that existed before the COVID-19 outbreak but one that's been exacerbated by it—is key to being able to effectively sell product. It's about being able to explain to the builder how a product or system of products will ultimately benefit them as well as the homeowner. "LBM dealers will serve their builders well by focusing on how value-added, complementary products can help address efficiency, avoid costly call-backs, and ultimately improve the quality of homes," says LP's Craig Miles. "Dealers play an integral role in driving quality homebuilding as well as resiliency by promoting products specifically designed to address durability, weatherability and efficiency."
While it's easy to sell builders and homeowners products that deliver an immediate visual wow factor, when it comes to insulation and housewrap, product knowledge is key. Manufacturers agree LBM dealers need to be able to understand how products work and then be able to present options that help their customers deal with those aforementioned labor shortages while meeting building trends. "Labor is still an issue for the industry," says LP's Jeff Yelle. "Therefore, our focus remains diligent on finding ways to reduce cycle time and labor cost. Additionally, with industry emphasis on green and resilient construction and LP's portfolio of building solutions, we are very well-positioned to rise to the challenges ahead with a strong foundation of complementary building solutions."
Kimberly-Clark's Scott Tennison also stresses the importance of product knowledge and product value. "A lot of times, people will skimp on things they can't see and put more into the 'wow' features of the building such as appliances, fixtures or exterior cladding that make the structure beautiful. All of that is great, but you can't always look for the low-cost option on products that are designed to protect all of that."
"Builders need to understand the risk that they are taking when they don't use quality weatherization wrap and how using quality weatherization products can help protect the structure, their hard work and their reputation," he goes on to explain. "Don't cut corners or go for a fad that won't be around to protect you in the years to come."
ZIP System Products' Allen Sealock echoes Tennison's comments regarding the avoidance of fads and the importance of being able to explain to the customer the benefits of proven performance. "Builders are looking for a system that is readily available, affordable and has a track record of proven performance," he explains. "Builders also want a system that is customizable, with enough flexibility and variety to adapt to different projects. Additional value propositions like curb appeal and contributing to energy efficiency also come into play, but fundamentally, builders want a system that is easy to use and one they know will work."
Going virtual
In order to be able to provide all this product information, LBM distributors need to take advantage of the latest in training programs in order to best sell product features and benefits. "Education is key," says Tamlyn's Pascual. "The more dealers support education, training and jobsite support, the better products will be installed and problems mitigated. Dealers don't have to do this alone. They can partner with suppliers to enhance knowledge across the value chain."
ZIP System Products' Sealock also stresses the value of education. "We know the relationship between manufacturer reps and lumber yard reps is key," he explains. "That's why we've continuously invested in programs to support lumberyard employee education like our 'Prove It Tour' product demonstration events held at hundreds of dealer locations each year. As companies bring in new products, we recognize the importance of direct access to manufacturer's technical team, local sales reps and marketing to make product adoption in the area a success." And while education programs and product literature have been around for years, how that training is being implemented is changing. This isn't to say that in-person training is going away. By following proper safety protocols and social distancing requirements, manufacturers continue to offer a wide array of on-site and in-store learning opportunities. But because of the impact of the COVID-19 pandemic, a good chunk of training is shifting from in-person to more virtual events and online resources. "We have done more virtual training in 2020 than in the past as we all work to keep safe and avoid large gatherings," points out Kimberly-Clark's Tennison.
And it's not the only manufacturer that's embraced virtual education. For example, Georgia-Pacific is releasing in early 2021 additional training materials for its ForceField Weather Barrier System to help LBM dealers and their customers understand the product and best installation practices.
LP recently launched its new LP SkillBuilder digital learning hub that features instructional installation videos on subjects such as how to properly install LP SmartSide siding, including over integrated WRB systems or house wrap. The videos are offered in English and Spanish, and provide installation tips and tricks to increase efficiency and reduce callbacks.
And in the case of ZIP Systems Products, it has transitioned its popular in-person Home Building Crossroads seminar series to virtual event webinars with well-known industry experts available at huberwood.com. "LBM dealers are a critical gateway to understand how these systems work and how the streamlined efficiency can add value during construction and long after," says Sealock. "We encourage partners to check out our new huberwood.com website launched this year that was designed to get quick product information, as well as provide access to installation videos, product reviews and feedback mechanisms to ask technical questions, contact a sales rep or find a local dealer."
So when taken as a whole, what does the future hold for insulation and housewrap? If a prediction can be made, it's that the next twelve months will continue to bring a demand for products that offer increased performance while creating a healthier home. As Jeff Yelle, director of technology for LP Building Solutions, explains, "We have seen great strides in our industry around sustainable practices and responsible forest management, stronger and more resilient building products, and solutions that provide added value to both the builder and the homeowner. In 2021, I anticipate continued focus on these areas, as well as building solutions and designs that take energy efficiency and performance to the next level."
But if 2020 has taught us anything it's that the unexpected can happen. But the successful LBM distributor will be positioned to deal with the unforeseen by staying at the forefront of education and product offerings.
Michael Berger is the former managing editor for HANDY Magazine and has been writing about home improvement and construction for the past 19 years.