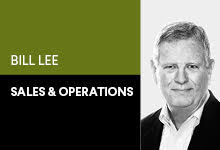 As a sales trainer, I have a lot of opportunities to observe salespeople who are highly successful and those who are struggling to make their draw. I've learned that what they say and do at their initial meeting with a prospect is usually what determines which group they fall into.
One characteristic I have observed among struggling salespeople is the percentage of time they spend quoting as opposed to selling. I often think of these types of salespeople as professional quoters versus professional salespeople. They almost invariably spent more than half their time doing takeoffs. Their idea of success is persuading homebuilders to let them quote an upcoming house job.
Here are some excerpts from an interview we conducted with a home builder:
"I'm a busy man," the medium-size homebuilder said. "I don't have time to spend with every sales rep who walks in the door looking for an order. Lumber salespeople in this town think all they have to do is fire off a handful of low-ball prices and I'll give them an order. I'm very happy with my current supplier, but if I were to change [suppliers], it wouldn't be because [a new supplier] suckered me in with a low-ball price. I'm not naive, I know that suppliers are a lot like builders, they have to earn a reasonable profit to stay in business."
"Then why are builders constantly beating lumber salespeople over the head demanding more competitive prices if price is not a major factor influencing buying decisions?" I asked.
"Hey, don't get me wrong. If a salesperson is naive enough to fall for the old 'your-prices-are-not-competitive shot,' I'll listen to their counteroffer. But what I'll do with it is take it to [my current supplier] and see what they have to say. I trust [current supplier] to tell me the truth. "What advice would you give a young lumber salesperson who is eager to do business with you?" I asked. "I don't know. I never really thought about it. I guess he could always bring me some buyers for these spec homes I have sitting out here. Before I started building, I was an insulation contractor. Insulation salespeople used to bring me jobs all the time and I'd give them an order in return.
"And another thing, I don't have time to research the market, maybe he could earn an order by doing some research for me."
"That's an interesting thought. What kind of research do you have in mind?" I continued to probe.
"You know, like, we know that we're too busy dealing with day-to-day firefighting to study what our competitors are doing. I want to know how we stack up, where we have advantages and disadvantages, that kind of research. A lot of larger homebuilders are beginning to move into this market. We keep meaning to go out on the weekends and tour their homes, but we never seem to get around to it. Do you understand where I'm coming from?" he answered.
I knew exactly what the builder meant. He confirmed what we teach in our consultative selling seminars: Builders don't need any more quotes, they need help raising gross margins, reducing labor costs, finding good subs, locating good building lots, finding substitute products, reducing administrative expenses, etc.
One of the chief complaints we hear from contractor salespeople is how little time they have to prospect. If salespeople would focus on helping builders make more money and sell more houses, I believe it would pay handsome dividends.
If you want different sales results, you might consider quoting less and spending more time helping customers and prospects solve their most pressing business problems.
Bill Lee is a respected sales and business consultant in the LBM industry. For more information, contact Bill at leeresourcesinc@gmail.com.