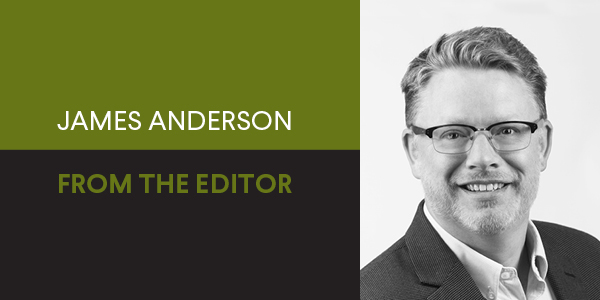 My 20-year-old son, who recently started a new job at a custom cabinet shop, told me that there is a guy at his work who no one wants him to train with. They don't want the new kid training with the old guy because, as my son says, "Bob doesn't believe in digital measurements." Bob is great at his job, even a rookie 20-year-old can see that. Bob has been there since the shop opened 30-some years ago and from what I hear, most days the place couldn't run without him. However, the fact that he prefers a decade-old tape measure over a digital saw fence read-out isn't something that management wants the younger employees to model. Bob has his place in the organization and has a wealth of information to share; he just likes people to do things the way he's always done them.
My son shared this story with me the same day I conducted a phone interview for this month's cover story on Alex McGehee at Anchor Lumber. I talk to a lot of people like Alex who own their own lumberyards. Some might say that a few of the people I talk to who are in Alex's position are somewhat set in their ways. That may or may not be true, but if it is who can blame them? Their ways have made them the successful businesspeople they are today.
Yet when I got off the phone with Alex, a part of the conversation stuck with me so much that it later became essential to the Anchor Lumber story. Alex admitted that he's not always sure that the ways he learned to do things are still the best ways to get things done. In fact, maybe some of the younger people in his organization have come up with even better ways to do things. Namely, Alex was talking about his son, Sam.
Having his son in the business has opened Alex up to what he called a generation gap in knowledge. Seeing things through his son's eyes has improved his business, Alex said, but it only happened once Alex had accepted that what he was taught by his father may not be the best way to do things now, some 40 years later.
Usually when people say there is a generation gap in knowledge, they're saying that the young people don't know how to do things the old way. But imagine the reverse of that scenario—that sometimes maybe the older generation doesn't know how to do things the most efficient way or with the most optimized tools.
It's refreshing to hear Alex's take on the knowledge gap in our industry—that essentially, it flows both ways. You can read more about him, his family, and Anchor Lumber. Alex's philosophy reminds me of something Rick Davis says from time to time. To paraphrase: "These millennials—they want to work smarter, not harder, they want flex time to spend with their young families, they want to be social—it's like they're human or something!"
You can find Rick's column addressing "order instigators" in this issue. It serendipitously seems to fall into this theme of learning new ways to do things. So does Thea Dudley's column about being new to a credit team, Shane Soule's column about operating your fleet of trucks to peak efficiency, and a commentary from Cassie Fosher about hiring in the changing LBM landscape.
My hope is that you'll learn (wherever you may find yourself along the knowledge gap personally) a little something new in each issue of LBM Journal. And if you've got some knowledge that you think our readers can benefit from, please let us know. We're all learning new things every day.
— James Anderson
Editor