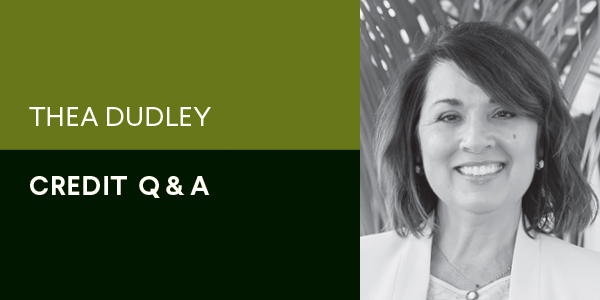 Dear Thea,
I am struggling to hire credit professionals— inexperienced, experienced, I will take them. Where have they all gone? Do I have to resort to stealing from competitors? Please don't tell me to go to the local colleges. One mention of "credit manager" and they take a hard pass. Traditionally, I know credit management is not a glamorous role, but it is a good profession.
— Can't Retire without a Plan in Boca Raton
Dear Retire,
Finding good credit people is a nationwide challenge. Recently, a colleague asked me if I knew any credit managers looking for a job. I asked him if it mattered where they did the job from. That stumped him.
With all the advancements in technology and fresh perspectives of younger generations, more jobs really can be done remotely. As the world changes the way we conduct business, we should adjust our needs to reflect that. This is 2021, we're working through a global pandemic, and the Baby Boomer generation is at retirement age. The lines between work and personal life have blurred to the point where it is not easy to see where one begins and the other ends.
Some companies are progressively challenging the traditional. Here's how a credit manager pal is solving recruiting challenges: They needed credit pros with specific skills who could also be available when their customers were needed. They found qualified candidates, but none in their area. The solution? They switched to the work model that software companies have used for years, the "flexible hours" contract. This model states that, if the work gets done to the satisfaction of the company, the employee can work the hours they want, from wherever they want.
The company set parameters, limited in-person meetings, and leveraged software that organized conference calls, group emails, and the like to make the model work for them.
Another credit manager I know recently found a company she wanted to work for, but she did not want to move. She approached the owner with a plan that showed she could build and manage a team, while bringing in top notch results, all from her home office. It took planning, some nights away from home, a little over-communication at first, but with open minds, trust, and a willingness on both sides, it worked.
Since she's taken over, KPIs and communications with sales have all improved, the company has a talented credit professional, and she gets to work for a firm that appreciates her skills and work ethic, without making her choose between her family and her career.
It does take some forethought, planning, and a willingness to embrace technology to set up this arrangement, and you do need top notch audio and video and communication systems. But the good news is there are plenty of options out there designed to facilitate this kind of work model. With many to choose from, it is short-sighted not to have these capabilities and use them in ways that you haven't yet considered.
This leap from the traditional would not have worked if the company president was not open to the concept. The old "If I can't see the person, they aren't working" thought pattern still exists. Let's face it, we all have people in the office who are there physically, but mentally…well that's a horse of a different color. Working in an office does not automatically equate to more work getting done.
Of course, for the work-from-home model to be successful, it must include the right combination of people, roles, checks and balances, and most importantly–attitude. It really is an option to consider. While companies can exist by stubbornly following traditions, to thrive, to excel, to attract the most talented people and engage in successful growth, the only workplace tradition you should embrace is evolution.