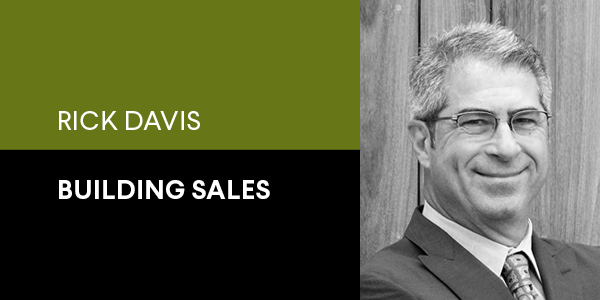 A funny thing happened on our way to the crisis created by the worst pandemic in a century. We got busy. So busy in fact that unexpected supply chain and fulfillment promises have created an unexpected crisis. The good news is that many learning lessons were created in the chaos.
Communication should be business-focused first. A pre-pandemic salesperson drove by a jobsite and could fill a day making unannounced visits to just "check in" and open a dialogue with casual chit-chat. The practice of virtual meetings, social distancing, and surprisingly robust activity has forced salespeople to be more efficient and purposeful in communication. You can't simply ask a client or prospect to join you online to "catch up." You can't show up to a job site and expect a lengthy dialogue between masks.
The lesson learned from the times for all time is that meetings need to be scheduled in advance with definitive purpose. Instead of starting dialogues with small talk, get right to business. This is actually a habit that should have been established long before the pandemic and should be practiced in the future.
It's not about the product. The ripple effect of supply chain challenges has produced communication and logistical challenges. Throughout North America, salespeople are lamenting the explanations they have to give buyers about delays and shortages. The answer is to give them the facts while learning to avoid these problems in the future. The smart salesperson is helping their clients plan projects better by adapting to shortages and extended lead times.
The lesson learned from the times for all time is that good salesmanship is not about pushing product. There is no opportunity for quick "fill-in" orders when products in stock have already been depleted or allocated. Good salesmanship during the pandemic means sweating the quantity and delivery details long before the order is placed. It is another lesson revealed by the crisis, but a habit that should have been established long before and repeated in the future.
Cost is significantly more important than price. More than a few salespeople and managers have told me that price is a smaller part of the equation right now. Clearly there is no point in saving 5% on a load of lumber if it is going to delay a project by weeks. Moreover, rising lumber costs have forced price discussions and taught many that getting your asking price is easier than they once believed. The ripple effect of reduced production, increasing demand, and subsequent product shortages has shifted the conversation away from price.
The lesson learned from the times for all times is that price is always less important than total cost. Great salespeople know that the job is to help their clients make money, not merely by being competitive on price. The crisis has enabled salespeople to see what they should've known all along. The real value you bring to the table is the ability to help your customers manage the total cost of their projects. This means accounting for product price, labor costs, and interest on loans to build the structure.
BONUS LESSON. You can't predict the future, but you can prepare for it. Right now, the industry is riding high and the long-term economic indicators for construction are strong. That being said, a short-term blip is possible and while you're busy enjoying the rising tide that is lifting all LBM dealer sales, it's best to be cautionary and consider the huge drop in GDP reported in the second quarter might create a temporary slowdown. It's a good time to plan for the future by prospecting vigilantly and managing your cash flow, lessons for all time that we should learn before the next crisis hits.
Rick Davis, president of Building Leaders, is a premier sales trainer in the building materials industry. His latest book, Sales Economics: The Science of Selling, is now available at buildingleaders.com. Rick can be reached at rickdavis@buildingleaders.com.