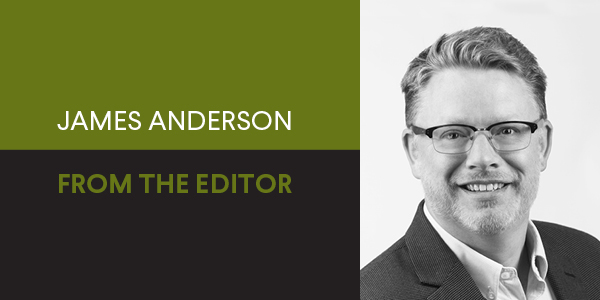 On the morning this column was due, I woke up to a text from my brother. He had sent a picture shot out the window of an airplane he had just boarded to take off for a work trip. Work trips … remember those? I do, and most of them fondly. It occurred to me as I read his texts that my next major work trip will be the LBM Strategies Conference in October. There may be a smaller trip or two before then, but nothing that's booked yet. So as of this point, I'm excited not only for our annual conference to return in-person, but because it gives me a chance to travel again.
We announced the first LBM Strategies Conference in 2016, just a few months after I started at LBM Journal, though the kudos for its rise to the premier educational and networking event in our industry go first to our Executive Editor and Publisher Rick Schumacher, and second to Michelle Fischer, our director of operations and events. They run the show there; I just write about it and oversee quality control for the lunches and cocktail receptions. Over the past five years, I've seen our conference grow in strength and scope through the quality of content as well as the networking opportunities with LBM dealers, managers, salespeople, HR directors, and so on.
I've been to my share of other events in this industry, many of which fall short of the attendee-to-exhibitor ratio that we pride ourselves on for LBM Strategies. Each year as I visit with attendees at the conference, I hear the same thing. I ask who they've met or talked with and they almost always comment on the number of dealers they've been able to connect with and learn from. Of course, there are also quality sponsors and exhibitors at the conference. We encourage them to attend the sessions and grab a seat at the tables to hear from the conference presenters. At LBM Strategies, exhibitors and sponsors learn right along with the attendees. In doing so, a connection is developed that extends far beyond the exhibitor booth. At one of the early LBM Strategies conferences, an attendee pointed out what I realized was the key to why the atmosphere at our conference was unique. The observation was simple enough, but it makes all the difference—none of the presenters are professional speakers. To hear how one businessperson has solved a problem and in their own words shares the story is priceless. It's motivational on a different level because to those in attendance, it couldn't be more relatable. The speakers aren't being paid to share the same information on a conference circuit. They're there to demonstrate how something they've experienced can help your business. I don't know what could be more valuable than that.
While the official agenda for October's event is still taking shape, I can tell you now that we've already lined up speakers on the topics of employee retention, sales, training, Lean operations, and more. Each of them is a professional in our industry who is there to share what works for their organization for no other reason than because it can help each attendee find the same success.
Of course, there is more than just the educational sessions to take in. There are networking breaks, lunches, cocktail receptions, and opportunities for private dinners that also draw attendees from around the country. This year, it all takes place October 13-15 at the Hilton Logan Airport in Boston. I can't wait to see you there. If you'd like more information, and to register, visit LBMstrategies.com.