This content is made possible by our sponsors. Click here to add your content.
Bringing a porch or deck into the 21st century is surprisingly easy. RDI Avalon Aluminum Railing from Huttig provides modern beauty that installs quickly and lasts for years.
Avalon brings a whole new line of style options to RDI's trademark build quality. Top rail profiles include Tristan, Lanval, Pellinore and Oberon, each uniquely detailed to suit individual tastes. They're also easily interchangeable, which is perfect for last-minute adjustments or simple refreshes down the road.
The style doesn't end with top rails, either. Avalon's exclusive glass slat infill offers a modern alternative to their ¾" square balusters. Customers can even add optional LED lighting for that perfect accent of ambience and added safety.
Avalon rust-proof aluminum is AAMA certified and is powder coated to withstand over 10,000 hours of salt spray testing, more than three times the industry standard of 3,000 hours. That's a passing grade, with flying colors.
Speaking of colors, Avalon is available in: White, Satin Black and the striking Aged Bronze. Color versatility is just another quality that makes Avalon systems easy to sell.
Avalon also features RDI's exclusive Securatec locking system, which quickly and easily secures balusters and helps prevent rattling, even after years of use.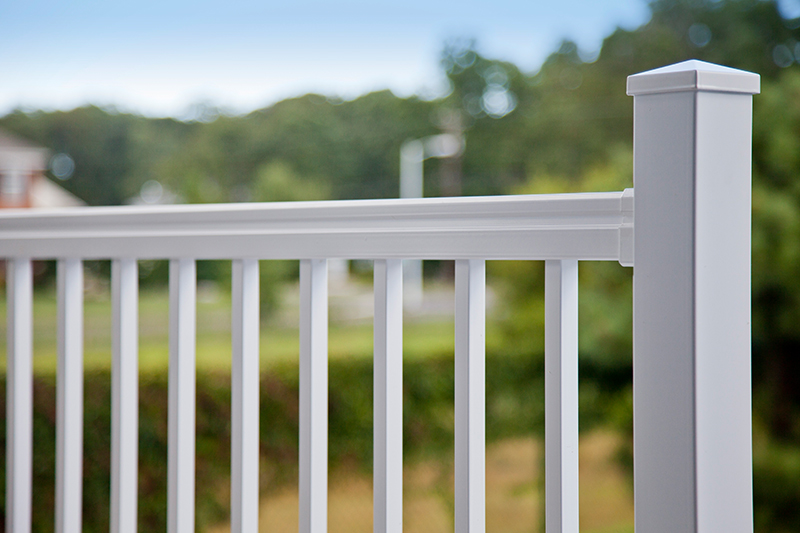 Avalon railing systems, including glass slats, are safe and sturdy enough to use for balconies, second story decks and raised porches. Kits are available in 6′ or 8′ lengths with standard or over-the-top posts and brackets.
Contractors will appreciate the labor these kits save on the job site. Avalon's level and stair square baluster panels come pre-assembled; drastically reducing installation time over conventional wood railing systems. Each kit comes with all the fasteners needed, and templates are available when needed. Avalon's glass slats are also easy to install, with sliding collars to keep everything in place. No specialized tools or skills are required. A days-long job can now be done in hours.
Standard Posts
●      2.5″ x 2.5″
●      4.25" x 4.25"
●      Attached mounting plate included
●      Post top and trim ring included
●      39″, 45″ and 60″ railing heights available
Over-the-Top Posts
●      2″ x 2″
●      Railing runs over post tops
●      Allow for 36″ and 42″ railing heights
●      Line, corner and end brackets available
Avalon railings can be installed with existing vinyl, Resalite or wood posts. 4.25″ x 4.25″ Avalon posts can be used as sleeves for existing posts or columns in 39″, 45″ or 108″ heights, with the latter for porch columns.
RDI Avalon Aluminum Railing Systems and Huttig provide beautiful, labor-saving solutions to any porch build or refresh.
Visit www.huttig.com or download hot sheet here for more information!