This content is made possible by our sponsors. Click here to add your content.
Does the tool a contractor uses matter? Of course, it does. But only when they want to deliver the best results to their customers. Ensuring customer satisfaction and loyalty is indeed the goal of manufactures, dealers and service provides, alike. Manufacturing quality products, selling the best products and offering the best service is what assures this all happens. As winter winds down and roofers gear up for the start of roofing season, in some areas of North America, here's the tool they need, we manufacture and you should sell.
MAX Co. Ltd., manufactured the world's first coil roofing nailer in 1982 and continues to deliver innovative upgrades to this tool. In the current model, the SuperFramer® CN445R3, MAX R&D engineers combine durability, safety and performance features.
Versatile enough to be used for the installation of asphalt and fiberglass shingles, vinyl siding, lath wire to plywood, and wooden box assembly, here are a few key benefits that make the SuperRoofer® Innovative.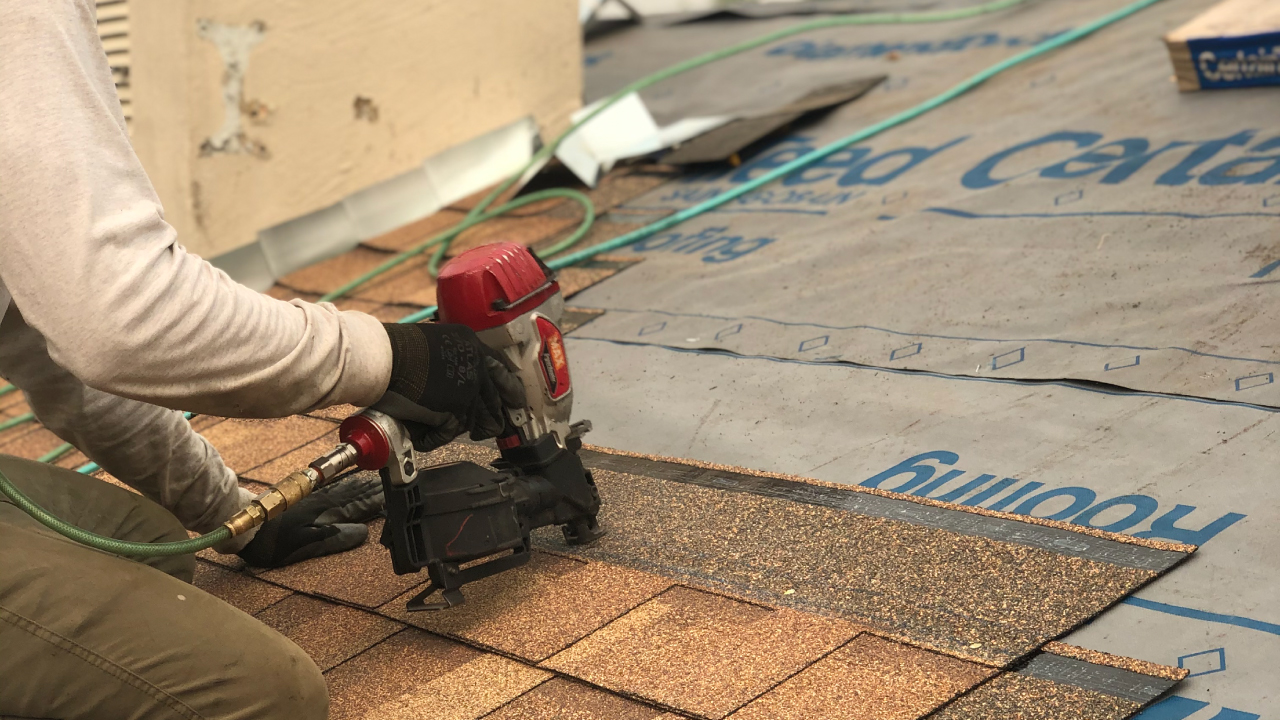 • REDUCED TAR BUILD UP
Tar resistant nose is designed to resist tar 8x longer than conventional tools. When necessary, the SuperRoofer®'s contact foot is easy to remove, clean and is also inexpensive to replace. This enables roofers to safely maintain and clean components of the tool without having to submerge the tool in corrosive cleaning agents.
• SELF-CLEANING FILTER FOR RELIABLE OPERATIONS
The patented, self-cleaning maintenance free end cap filter, captures foreign substances before they can enter the tool and automatically and safely ejects them when the air hose is disconnected. This keeps the insides of the tool clean, which keeps the tool up and running longer, without a need for maintenance.
• NO NAIL WASTE OR JAMS
A nose magnet holds the last nail in place, allowing contractors to use every nail in the coil. This feature firmly holds the nails in place to prevent the tool from jamming when the contractor get down to the last few nails.
• CONSISTENTLY AND ACCURATELY SHOOTS NAILS
The depth adjustment dial allows operators to effortlessly drive nails into layered shingles, and also control depth of drive when fastening soft materials, for a consistently polished finish.
• AVOID TRIP HAZARDS
A tangle free swivel fitting prevents tangling of the hose while keeping roofers safe from potential fall hazards.
• EXTREME DRIVING POWER
Equipped with a full round head driver blade the SuperRoofer® allows operators to seamlessly drive nails consistently through the roofing materials. This feature delivers dependable holding power and also prevents annoying curling of the nail head that occurs when contractors use roofers that have a moon shaped driver blade.
MAX pledges that tools purchased will operate as described in the tool manual. If for some reason the SuperRoofer® does not perform to the operator's satisfaction it can be returned within 30 days for a full refund or exchange for another MAX tool of the same value. The 30 Day Contractor Promise does not apply to industrial applications. MAX also warrants that the SuperRoofer® CN445R3 will be free from defects in material and workmanship under normal use for a period of five years from the date of purchase. Normal wearing parts are not covered under this warranty. (e.g. Bumper, Driver Blades, Piston rings, O-rings, Seals, and Springs.)
MAX is committed to manufacturing reliable tools that have been designed to deliver enhanced performance while making sure that users can safely perform operations.
Check out some of our other tools at www.maxusacorp.com or call Bruce Panveno at (815) 546-1150 to discuss becoming a dealer. Becoming a MAX dealer opens you up to receive exclusive promotions, free merchandising displays and materials, and exclusive product training webinars.