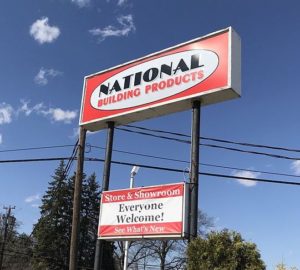 MANSFIELD, Mass. — National Lumber has expanded in New England with the opening of its ninth lumberyard location in East Harford, Connecticut. A grand opening celebration is scheduled to begin June 20.
The East Hartford location is operating under the name National Building Products because there is already another company operating under the name National Lumber in southern Connecticut. This location has operated as a lumberyard under various companies over the years, most recently under Builders FirstSource, which left the property in late 2018. In addition to improvements to the full‐service lumberyard, with expanded product offerings in both the lumberyard and hardware store, the renovated East Hartford location also features a Kitchen Views design showroom. Delivery is available via boom trucks, flatbeds with mounted forklifts, and box trucks.
Te 85‐year‐old family business, owned and operated by the third generation of the Kaitz family, began expanding into Connecticut in 2015 with the acquisition of Oxford Paint & Hardware in the southern part of the state. Renamed to Oxford Lumber and Building Materials, the location was renovated and now also includes a Kitchen Views design showroom. The company's manufacturing division, Reliable Truss and Components, based in New Bedford, Massachusetts, expanded into Branford last year. to better serve builders in the region. When the property in East Harford became available
National Lumber operates nine retail lumberyards in New England, with seven Kitchen View showrooms, and 12 Benjamin Moore paint stores. The National Lumber family of companies also includes National Millwork, with a distribution facility and custom millwork shop in Mansfield, Massachusetts.