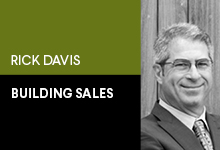 "Know any good salespeople out there?" That's the question I'm asked about once each week by managers and executives seeking improvement to their sales. I know plenty of talented people who could be great salespeople with the right leadership. The problem for LBM dealers is the false expectation that you can "hire" sales. The best way to build sales is through planning.
This truth was first illustrated when Brad Williams, vice president of sales for Mirage Flooring and a former defensive end with the Notre Dame college football team, shared a story about Lou Holtz and superior leadership.
Picture a modern media classroom packed with a group of very large teenagers, some weighing in excess of 300 pounds. The boys are raucous until the powerful leader struts through the door and every eye turns to listen carefully. Lou Holtz tells his players they will win the game if three things can occur: each player will cover his assignment; each player will out-hit his man; the team will commit fewer turnovers than the opponent. That's it. That's how national championships are won.
Williams explained how players voluntarily acquiesced to Holtz's strict disciplinary policies and game planning with passion…because it worked! I took a look at Lou Holtz's legendary record as an NCAA head football coach and discovered something almost uncanny. At every stop in his career, he took the same talent as his predecessors and got better results through planning. In an excerpt from my latest book, Sales Economics, I wrote:
The North Carolina State Wolfpack was 3-8 in 1971, 8-3 in 1972 under first year coach Lou Holtz. The South Carolina Gamecocks were 1-10 the year before Holtz took over and, after a single transition season, he led the team to an 8-4 record and a ranking in the top 20 teams of the NCAA. Same talent; different results. He turned around a team that had been struggling for years at Notre Dame and led the team to the national football championship in three years.
It was his experience at Arkansas that might be the most impressive. He took over a team that, in 1977, had lost half of its games. The next year he led that team to an 11-1 record, which is only a small part of the story. At the Orange Bowl, the Arkansas Razorbacks faced the heavily favored Oklahoma Sooners, the team that would become the national champion if they won that game.
If the odds against an Arkansas victory weren't slim enough, Holtz benched three of his top players for disciplinary reasons just prior to the game. Two of those players had scored nearly 80% of the team's points that season. In spite of being an 18-point underdog and losing those three players, Holtz's squad won the game 31-6. Less talent; better outcomes.
 If you are not getting the results you want, it's possible you can hire better talent than the competition, but hardly a certain formula for success. If you want to win market share, do better with average talent. Talent is different than skill. Skill is the manifestation of talent. More importantly, talent is average; that's why we call it the "law of averages."
It is impossible for every organization to hire "better" players. Ultimately somebody has to figure out how to win with average talent, as Lou Holtz had done repeatedly during his illustrious career. Superior leadership of average talent outperforms mediocre leadership of exceptional talent.
Superior leadership means discovering talent coachable enough to execute the right game plan. The right question is not whether you can find talented salespeople with the skill and proven track record for success. The better question is whether you have the right leadership and game planning to win with the talent you got. If you aren't getting the results you want, stop blaming the talent and start evaluating your game plan.
Rick Davis' new book, Sales Economics, will be pre-released for attendees to the LBM Strategies Conference on September 18-20, 2019 in Austin, Texas. The book will be available for purchase in mid-October. For more information, visit www.buildingleaders.com.