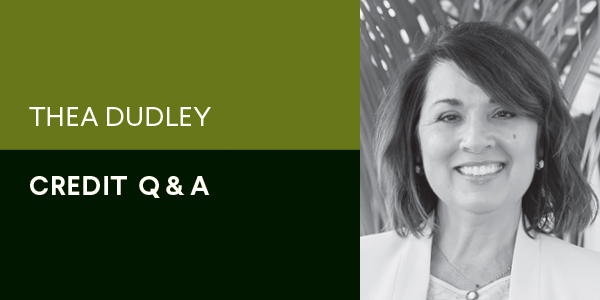 Dear Thea,
I heard a presentation you did on credit leadership and building a powerful credit department. What if you work for someone who does not believe credit department ever needs to change up how they do things? How do you progress when you are working for someone or for an organization that doesn't want to embrace new ideas?
Signed,
Looking for some help in Helena
Dear Looking,
For starters, you can't force someone to hear a message they are not ready to receive. You can, however, plant the seed, then water it. Over and over. Take a few steps back and really look at your organization. Chances are the landscape is not quite as bleak as you believe it to be. If you truly watch some of the leaders in your organization, you will see some who could be allies. Aligning with these leaders could help forge a brave new world. Some of my greatest allies were actually people I didn't really like on a personal level, but people don't have to be liked to be trusted.
Forget everything you know about leadership and credit management, and approach with a beginner's mind. How would you do something if you had no preconceived notions about how it should be? You may not be the leader by title, but a title doesn't make a leader. A title doesn't garner respect. It's how you conduct yourself, how you treat others—and that means people you work with—even those who you may not necessarily agree with all the time.
Being a leader means fighting just as hard for someone else's success as you do your own. It means recognizing and doing the best you can for the customer and your company, and not walking away. Being a leader means jumping into the trenches to help your team be successful, regardless of your title.
Don't misunderstand what I am saying. You don't have to be Joan of Arc or inline to be canonized for sainthood. You do have to be there for more than just a paycheck. Opportunities arise all the time; you just have to keep your eyes and ears open for them and be prepared to act. The beauty of life is nothing stays the same for any true length of time.
Take a look at the other members of your team. What are you working with? Do you truly pull together as a team or are you fractioned by small groups or cliches like you are in a Twilight Zone version of high school?
I am always concerned about creating a team in which everyone thinks alike. Research shows that the most successful teams have a diverse approach to finding solutions. Again, you don't have to like everyone you work with, but do you trust them? Do you respect the job they do? Can you put your petty BS aside and work together to create an outstanding team? Can you acknowledge and leverage their value?
Essentially, the department is the team. A department is just desks and groupings of like work. A team is what makes that collective work outstanding.
Did I answer your question? Maybe not the way you were looking for. I have no magic bean to offer you to change your situation. Only you can do that. Look around, see what can be done. If you are convinced that all is lost and there's no hope, then you have choices to make.
But before you do, never underestimate the power of planting a seed. Maybe it won't work, maybe it will. How will you know if you never even try?
With more than 30 years of credit management experience in the LBM industry, Thea Dudley consults with companies on a wide range of credit and financial management issues. Contact Thea at theadudley@charter.net.