This content is made possible by our sponsors. Click here to add your content.
Create something truly unique with TimberTech Decking and Railing.
Adding TimberTech composite decking to your client's home is one of the best ways to upgrade their outdoor space. Beautiful, easy to care for and technologically superior, TimberTech Decking has no equal. So, when it comes to selecting the right railing for their new TimberTech deck, it makes sense that TimberTech would offer the perfect pairing.
TimberTech Railing is designed to work beautifully in tandem with TimberTech Decking. It's available in a variety of gorgeous styles, which means it can be used to achieve nearly any aesthetic and can be customized to create the exact deck your clients envisioned. Premier Railing, Contemporary Rail and Impression Rail Express complements your skilled decking installation by taking decks, and customer satisfaction, to the next level.
Here's what sets TimberTech Railing apart, and how to choose the best one for your customer.
Material Matters
TimberTech offers both composite and aluminum railing. TimberTech's composite railing is capped on all four sides and their aluminum railing is powder coated, completely sealing them against the elements and making them substantially easier to care for than wood railing. In fact, TimberTech's composite railing contains zero organic material in the cap, so it repels mold, mildew and moisture. But if you're building in a moisture-rich environment, TimberTech's aluminum railing is the most durable and moisture-resistant choice.
Composite Without Compare
Available in a multitude of options, TimberTech composite railing is great for customers who want design flexibility. With both traditional and contemporary styles and a range of infill options and colors, it's easy to find the perfect composite railing for any space. Plus, their durable capped exterior makes maintenance simple. So simple in fact, that compared to the cost of cleaning, sanding and staining wood railing, composite railing will save your customers in the long run on maintenance.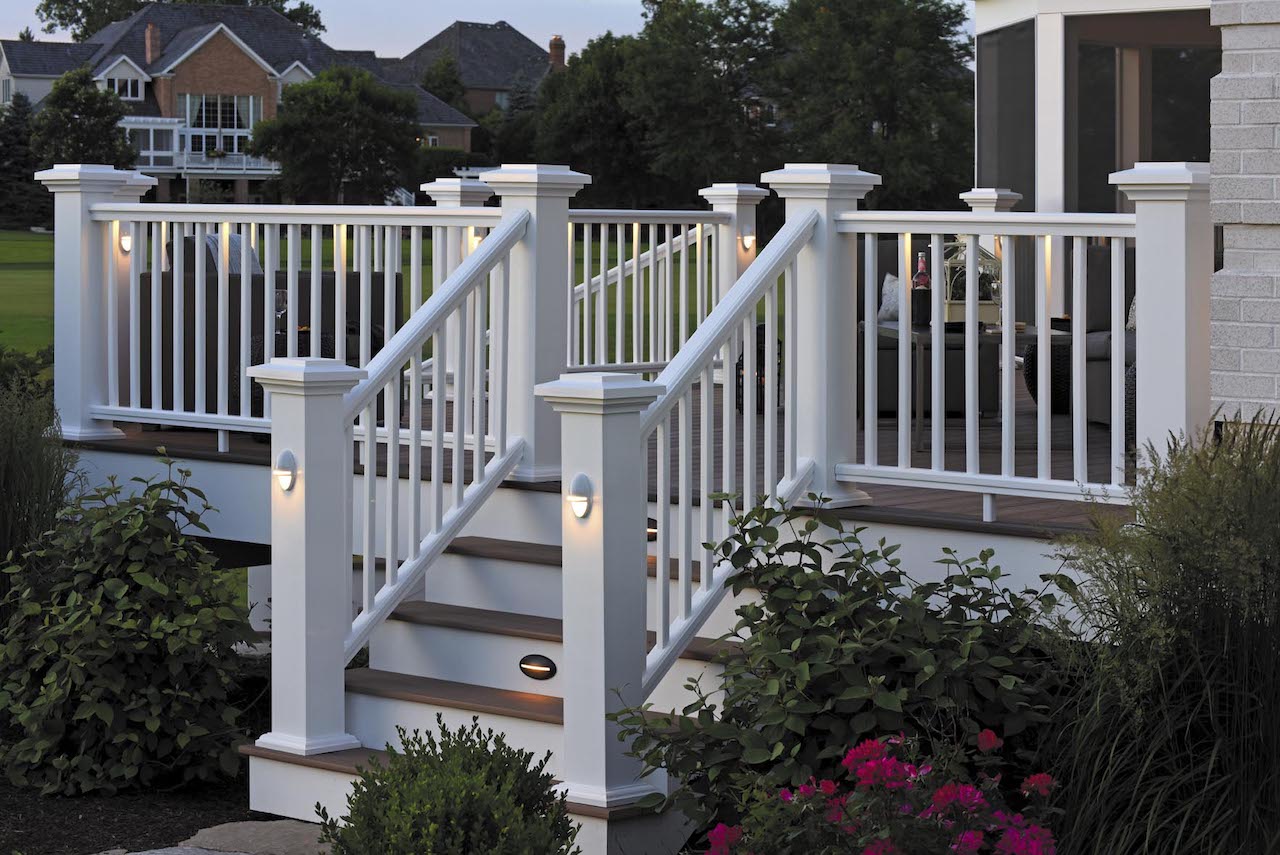 Premier Railing is composite railing that's traditional to a T. With five color options including White, Black, Kona, Brownstone and Slate Gray, Premier offers the feel of milled wood with the added strength, beauty and performance of composite. It feels comfortable in your hands and puts even more infill options at your fingertips. You and your clients can select from composite balusters, aluminum balusters, CableRail by Feeney and even a glass channel kit for a contemporary twist. If we've piqued your interest, you're in luck. Samples are available to order now.
For those searching for something a little more modern, look no further than TimberTech Contemporary Rail. Emphasizing linear, streamlined sightlines, it offers the same low-maintenance sensibility TimberTech offers with all its composite products, but with a modern and effortless style. There are five different infill options, including composite balusters, aluminum balusters (both square and round), CableRail by Feeney and glass channel kits. Plus, it's available in two simple and elegant colors: Classic Black and Traditional Walnut. Whatever your customers choose, they really can't go wrong.
Aluminum That Amazes
The other material option your customers have is aluminum. TimberTech aluminum railing is ideal for customers who want simplicity, strength and elegance. If your customer lives in a challenging environment where their railing would see a lot of wear or weather, aluminum is the way to go. With their clean sightlines that keep views unobstructed, TimberTech aluminum railing proves you don't have to compromise on strength to have style.
TimberTech Impression Rail Express is one such aluminum system. With a similar elegant and minimalistic style as TimberTech's Impression Rail system, the Impression Rail Express railing includes a wider top rail and comes in preassembled panels for significantly faster installation. And the range of infill options (aluminum balusters or glass channel kits, both of which can be customized with or without a midrail) ensure your customer's views are minimally impacted. Available in Black, White and Bronze, Impression Rail Express brings sturdy sophistication to any backyard. For more information, check out TimberTech aluminum railing.
TimberTech Railing doesn't just frame your customer's outdoor living space. It enhances it, creating another avenue for their style to shine through. With this portfolio of knowledge at your fingertips, you'll be able to bring your customers styles they hadn't considered, pros and cons to facilitate their decision making, and leave them with a deck they'll absolutely love.