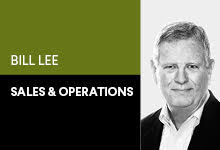 To be effective at what I do for a living, I have learned to step back from the LBM business I am working with and look beneath the surface, so to speak. In other words, I've found it's more eye-opening to examine why a business is achieving a given result and not focus on the result alone.
Since gross margin is the metric that I have perhaps had the most success with improving, and it is a factor that is incredibly important to an optimal bottom line, I'm going to use gross margin as one of my metrics.
For example, I must do enough research to understand why a competitor is achieving two or three more margin points than my client when they have a comparable customer mix and product mix. It is not unusual to observe variances this wide.
A similar variance is also not unusual for operating expenses as a percentage of sales.
At this particular time in the life of an LBM business, owners, managers, salespeople, etc., cannot predict what they are going to be asked to deal with next. The government's decisions are frequently tied to either the state's (or a piece of geography within the state's) latest COVID19 statistics, so predicting next week's or next month's rules are a crap shoot.
One key is maintaining a chart that management can use to record what sort of measurable productivity the business is achieving with varying allocations of personnel. Analyzing this productivity measurement tool helps management determine at what personnel allocation level they can achieve optimal productivity.
The chart might include the following gross margin measurements:
– Gross margin by salesperson.
– Gross margin by salesperson on special order items that account for 80% of special-order sales.
– Gross margin by individual SKUs that make up 80% of total sales.
– Name the salespeople with pricing authority who in the last 12 months have NOT been tested on how effectively they respond to various types of price objections.
While the above metrics are often routine for LBM businesses to monitor, I have observed that since the coronavirus hit, normal routines have been turned upside down to the point that it's not unusual for other priorities to cause management to take its eyes off the ball, so to speak, and fail to concentrate on the factors that affect gross margin.
With regard to operating expenses as a percentage of sales, how has your company's efficiency been affected by the juggling of personnel working in the business to working from home? In some cases, we've found that efficiency has increased, but in others just the opposite is the case.
An example is the percentage of your drivers' time that is spent on the road versus the percentage of unproductive time drivers are spending waiting for their truck to get loaded.
Another is looking at returns as a percentage of sales. Are loads being checked as thoroughly as they have been in the past? The answer to this question is often revealed by focusing on how returns are tracking.
From my perspective, I am extremely proud of the speed and the diligence with which our industry has responded to the unexpected curve ball that was suddenly thrown at them. There is no doubt about it, LBM business leaders have proven that they possess the agility to adjust rather quickly to rapidly changing systems and procedures.
Personally, I'm not wishing for a "new normal." Returning to the old normal will suit me just fine.