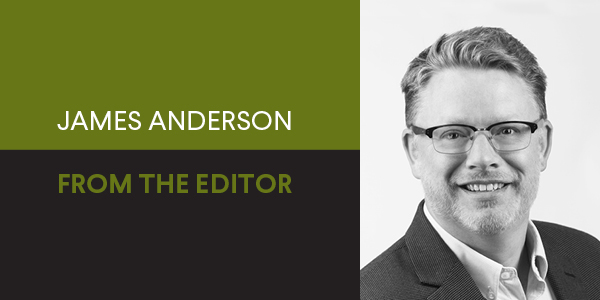 I arrived at LBM Journal in 2015 after a stint at a digital marketing agency and before that, five years at an online media startup. Frankly, at my age and that stage in my career, I was relieved when people would say things such as "Our industry isn't quick to adapt to new technology." I was perfectly happy to be done "adapting" for a while. But I soon realized that there was a certain generation of LBM pro who would tell me how the industry is slow to take on new technologies. The more multi-generational family businesses I got to know through writing our monthly dealer profiles, the more I learned that while the older generation was known to be slow to latch on to new tech, the generation following in their footsteps was eager to get their hands on technologies that would move their business forward in ways their parents hadn't imagined.
This month's issue focuses on technology tools for LBM dealers, a topic that we think is becoming more important every year. In fact, our 2022 editorial calendar calls for two separate technology-themed In Depth articles. In this issue, Mike Berger, our astute In Depth feature writer, analyzes the industry's best technology. You'll find in his article some tools that I suspect you're not using yet at your company, as well as new ways to utilize the software tools you already have.
A strong advocate for technology in the LBM space, columnist Shane Soule demonstrates how readers can use tech tools to increase profits at their companies through the integration of GPS software, ERP integration, dashboards, and SmartViews. As Shane says, "The good news is you are probably closer than you think to identifying the least profitable 15% of your business and implementing a plan to improve it."
Also in this month's issue is a feature article on ransomware protection, an increasingly necessary, though not often discussed, tool for lumber dealers and any retailer utilizing e-commerce and credit card transactions. If you think a lumber and building materials business is immune from attacks on its software, think again. Ransomware is real and is happening in our industry.
Amid all this technology talk, I'd be remiss not to mention this year's LBM Strategies Conference. If you want to get to know the best and brightest in the LBM industry, be sure to take a look at who presented at and attended the conference. They're the ones to follow. If you want to get to know them in person, lock in an early bird rate to next year's LBM Strategies Conference 2022 in Denver Oct. 12-14. Learn more at LBMStrategies.com.
— James Anderson
Editor