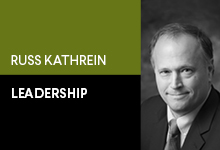 How often have you seen somebody do something you disagreed with or found offensive, but then you let it go because you did not want to make a fuss? Have you ever been part of a team that made a decision you knew was wrong, but because you felt left out or disenfranchised with the team, you kept your opinion to yourself? How about seeing something wrong in your company or your community, and not saying anything because you feel you are just a single, insignificant voice? This is a very pervasive problem in both our work and our personal lives.
The book, "Crucial Accountability," discusses 30 years of research on what prompts people to speak up. Researchers privately interviewed people who all agreed that if someone cut in front of them in line, they would confront the person. Yet, when they staged the scenario, not one person spoke up. The research team also went to a university library and talked really loudly next to people studying, and no one spoke up. They upped the ante and sat next to people in a cafeteria, asking them what they were eating. They went so far as to eat food off of other people's plates, and still no one spoke up. They determined that the biggest problem was that people did not know how to speak up in an effective and constructive manner, instead relying on building up enough emotion until they finally burst, which then created a very ineffective message.
My aha! moment came early in my career when I had taken over my family business. I had a manager who was loud, verbally abusive, and hard to work with. And, to be honest, I was intimidated by him. I was only 24 at the time, and I felt I needed to get some external coaching. I told the coach that the next time this manager pissed me off, I was going to fire him. She listened and then told me, "No, you are not going to wait until you are emotional. You are going to go right back to work today, sit down with this employee, and tell him why it is not working out and that you are letting him go." The thought of confronting this volatile employee was terrifying, but her words made sense. When I sat down with the employee and explained why his behavior was unacceptable, he nodded and said that I was right. He had been unhappy in the job, and now he was free to pursue something else. He ended up becoming a contractor and buying from us for many more years. If I had waited until I was emotional to confront the employee, things probably would have gone much differently. I would not have treated him respectfully and would have lost his respect, as well as years of business. As a leader in your company, you have to teach your people it is important that they speak their minds, and still have a constructive conversation that adds value to the situation, rather than escalate it into a bad one. More importantly, you have to practice these same principles yourself. You are a leader in your company, so if you don't speak up, no one will. You might kid yourself and think that someone else will also figure out what is wrong and do something about it, but in reality, you are not comfortable with the way you want to say something, so you put it off or dismiss it. That's not being a leader: That is being an ostrich.
To have a difficult but constructive conversation, the first thing you need to do is take the emotion out of your comments or feedback. Using metrics works because they give us something to refer to other than our opinion. Second, you need to present your message in a respectful and non-threatening way. One of my favorite tactics is to relate a story about myself in a similar situation, even if I have to stretch the truth to fit the circumstances. Lastly, don't start the conversation with a predetermined outcome in your mind. When you offer feedback in a constructive manner, it might start a whole new dialogue in a direction you never contemplated. Run with it.
I would be remiss if I did not discuss the issue of not enough people speaking up for ourselves as an industry. I personally have chosen to volunteer with the National Lumber & Building Material Dealers Association (NLBMDA), which I will chair in Fall of 2020, because I feel we do not speak up for our industry, both at the state and national level. We have fine organizations that support us at both of these levels, but we need more dealers to participate. Maybe you feel your single voice will not be heard, but when joined by some of the thousands of dealers we have across the country, our voice can be mighty. So, I ask that you get involved. Support your state or regional associations, attend their conferences, and join us in Washington, D.C. next March 23-25 as we take our collective voice to the Hill.