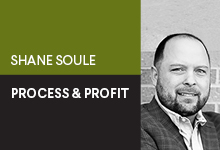 "This is a 18% market, boss. You can try to raise margin, but I've worked here my whole life— if you are above 18% you won't get (or keep) the sales. We need to buy better and be more efficient to make profit."
I heard this comment from multiple people in a specific market area earlier in my career. It was true. I was new to that market, and the salespeople I was speaking to had worked in that market their whole careers, but it didn't make any sense to me. "An 18% market?" What does that even mean? For that to be true, every company would have to have the same cost structure…all the time. And absolutely every product is an 18% margin too–hardware, studs, cabinets? Belief is a powerful tool that can either serve us or stop us, and in this situation, their belief was stopping them.
I've come to realize that this belief system around margins wasn't focused on just that one market. The more I've been around salespeople in different markets, I've concluded that they very often create their own pricing structures in their minds based on where they think pricing needs to be to win the jobs. This belief is born of a couple possible experiences. One scenario comes from reflecting on one or two jobs they lost (or were told they lost) due to price. A second situation occurred if they received a copy of a competitor's bid and checked the margin on the bid items. After one or both of these situations, they become confident, labeling themselves as a "market pricing guru" and basing all future bids on these supposed insights.
While there are all kinds of reasons to look at the legitimacy of the beliefs that drive our actions, here are a couple specific things to consider when you compare your bid to the competition:
Did you physically see the competitor's bid? It's certainly not unheard of for a customer to tell you that your bid was high to get you to drop your price, even if it actually wasn't. They may have decided they want to do business with you, but at a lower price. While you may ask to see the bid, it's likely they'll draw a line around whether or not that's fair, and that line will be right after telling you the competition's price, but right before giving you a copy of the whole bid. In another scenario, the customer may be trying to use you to further beat down a price from a competitor that they fully intended to use in the first place. In either case, these half-truths should not affect the salesperson's confidence in their bid.
Did you review the date of their bid? This one gets me every time. I don't understand why salespeople accept old bids from customers, then have the audacity to ask their sales manager to accept a lower price. Time passes, markets change, and prices go up and down. When a market is moving up, be prepared to field price pressure questions from your customers.
The best thing you can do is build consistent trust with your customers and let them know what the market is doing frequently…yes, even when it's going down. You need to do this to build trust with them, and when you have their trust, you will diminish or eliminate price pressure tactics when the markets are moving. Stephen Covey said so plainly, "When trust goes up in a relationship, or on a team, in a company, in an industry, with a client, with a customer— speed goes up with it and cost comes down."
MARKET PRICE / COST
"Market price" is a cuss word at any company that I'm involved with. I'm not saying there is never a consistent sell price on a certain SKU for a short period of time. What I am saying is that 95% of the time, the market price is set by the salesperson's perception.
My suggestion is to adjust the "cost" to include inventory shrink, non-paid receivables, etc. and then let them set the pricing to "their perceived market cost" and sell confidently. This creates a company margin increase and 95% of the time, a confident sales rep that sells the package at a higher price.
Shane Soule consults with LBM and component companies to increase productivity and profits, and improve the experience for both customers and team members. Reach Shane at shane@shanesoule.com.