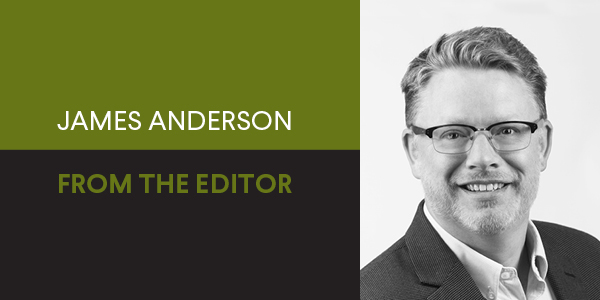 I had been kicking around the idea of starting a podcast for the LBM Journal audience for some time. I kept putting the idea on the back burner because I didn't feel qualified to do it. My experience and connection to the industry is made up of exactly the five-plus years I've spent here at LBM Journal. Though I once worked at a hardware store in high school, and today consider myself a less-than mediocre handyman, I'm not qualified to give business advice. I just wanted to share great stories and I wasn't sure how that fit among the relevant, actionable content provided by our regular columnists and writers.
Enter Rick Davis … Over the past few years that Rick has been writing for us, presenting at LBM Strategies conferences, and leading webinars on lbmjournal.com, I've learned that there's more to him than what I had come to expect from sales consultants. I've spent most of my career working in newsrooms where the training manual specifically says to be suspicious of anyone on the sales side of the building. However, if there's one thing I've learned here, both from Rick Davis and my boss, Rick Schumacher, is that the act of (art of, maybe?) sales has everything to do with asking questions, finding shared experiences, providing solutions, and storytelling. Coincidentally, these are all tenets of good journalism.
If you haven't yet heard, Rick Davis and I have launched The LBM Sales Podcast, though we both agree that there's much more to it than sales. Through Rick, who is the preeminent sales consultant in our industry, I have found a way to discover and share stories that aren't always sales-specific, but are always sales-related. Rick has a way of unearthing real stories from his guests, who so far have included Kevin Hancock of Hancock Lumber, and Rabbi Tamara Kolton, psychologist and author of "Oranges for Eve." (If you think a Rabbi and self-proclaimed feminine mythologist can't teach you something about sales, you'd better think again.) Future guests include a highly-respected lumberyard CEO, a young national marketing director, and a business efficiencies expert. Each of these guests tell of their experiences in a way that only Rick could get them to share. Each of their stories—some humorous, some deeply personal—have reminded me of the value of human connection and importance of learning from each other. And, of course, each story has taught me more about what it takes to be a better salesperson.
I look forward to sharing these conversations with you, and I'm positive that you will find a connection in each episode. The podcasts are available on lbmjournal.com as well as Apple Podcasts, Spotify, and most anywhere else podcasts are found. If you have a recommendation for a guest or episode topic, or any other feedback, please feel free to reach out. After all, sharing feedback, suggestions, and stories is how we become not just better salespeople, but a stronger community.
— James Anderson
Editor