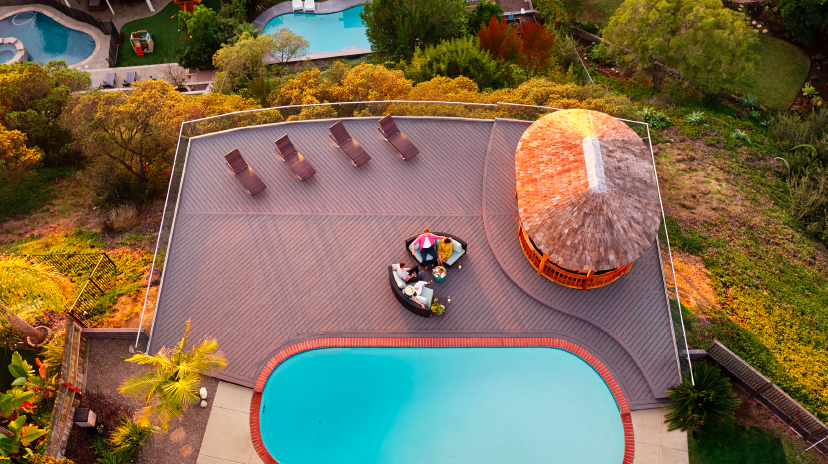 This content is made possible by our sponsors. Click here to add your content.
Who says decks need to be built from boring, straight, narrow planks of wood with the same monotonous color and pattern? TimberTech is the decking brand challenging the status quo in the industry and pushing the limits of outdoor living design with its new product offering: Multi-Width Decking under its AZEK line. With its complete product portfolio, TimberTech is bringing maximum design versatility and technological superiority to the decking industry.
TimberTech AZEK:
The innovative AZEK Multi-Width Decking features boards in narrow, standard and wide widths, giving homeowners the ability to bring indoor aesthetics to the outdoors. Designs can range from a classic, all-narrow or all-wide look to mixing and matching widths. And, selecting from a variety of six, wood-like colors ranging from rich browns and grays to natural hardwoods like mahogany, can create truly distinctive designs.
Premium Capped Polymer Decking
TimberTech AZEK features the same premium, capped polymer decking collections that set the industry standard. TimberTech AZEK capped polymer boards are 100% synthetic, making them extremely low-maintenance and resistant to mold, mildew and moisture damage. Engineered with superior surface protection, TimberTech AZEK is strong, slip resistant and durable. This technology protects decking boards from weather, UV damage and scratches, even repelling stains and dissipating heat.
And it's all backed by an industry-best Lifetime Product Warranty and a 50-Year Limited Fade & Stain Warranty.
Badass Things Come in Threes:
AZEK is just one of three distinct product categories that offer the broadest range of technology available from one manufacturer. TimberTech PRO and TimberTech EDGE round out the product categories to offer limitless design versatility to bring any outdoor living space to life. Whatever the budget, style or space demands, TimberTech has a product that suits any decking design and price point.

TimberTech PRO: 4-Sided Cap Composite
TimberTech PRO is a 4-sided capped composite that offers exceptional protection and workability. It's polymer capping extends on all four sides and even into the groove, for superior protection.
TimberTech PRO's authentic grain patterns and distinct, hand-scraped texture brings a high-end look and refinement to any design. With a dramatic color palette, there are endless options that can be used to reflect anyone's personal style. The dozens of colors are perfect for adding a bold accent to a design or subtle finishes to any deck.
Using robust technology, PRO's durable surface stands up to damage, spills, scratches and dents better than the competition. With this kind of strength comes confidence in the form of a 30-Year Product Warranty and a 30-Year Fade & Stain Warranty.
TimberTech EDGE: 3-Sided Cap Composite
With TimberTech EDGE, you get all the benefits of composite decking at a price attainable by all. The 3-sided cap extends into the grooves for enhanced protection against the elements and with no wood in the cap, it has better resistance damage from the elements.
EDGE is the perfect step to an easier maintained outdoor living space. With EDGE, homeowners no longer have to spend hours and dollars on annual sealing and staining. Its remarkably strong, technologically-advanced composite material is best in its category and backed by a 25-Year Product Warranty.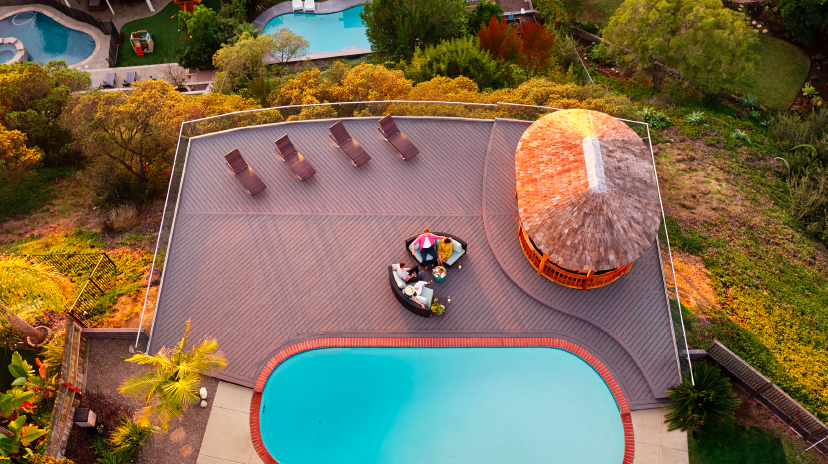 Why TimberTech?
Homeowners and contractors alike can be confident in their investment with any of the company's products that offer maximum design versatility and technological superiority.
The Most Color Choices
With dozens of colors to choose from, there is a shade of decking for every home and customer. TimberTech has color choices that not only enhance designs but inspire their very beginnings. Bold patterns can be created, and subtle splashes can be added to enhance any design in a unique way.
The Best Warranties
A deck's beauty and durability must stand the test of time, harsh weather and a few barbeques. TimberTech's confidence in their products is evident by their industry-leading warranties that extend beyond decking to lighting, railing, pavers and more outdoor living products.
Offering 50, 30 and 25-Year Product and Fade & Stain Warranties throughout their product lines, your customer's investment in TimberTech is always protected.

TimberTech doesn't just build decks. The brand turns decks into outdoor living spaces, inspiring consumers to think outside of standard, straight lines and dull colors to push the limits of any design. Plus, with a variety of railing, lighting and other outdoor living accessories, spaces can be truly transformed. TimberTech is challenging convention in the industry and ultimately, changing it – one badass deck after another.
Imagine the possibilities at Timbertech.com