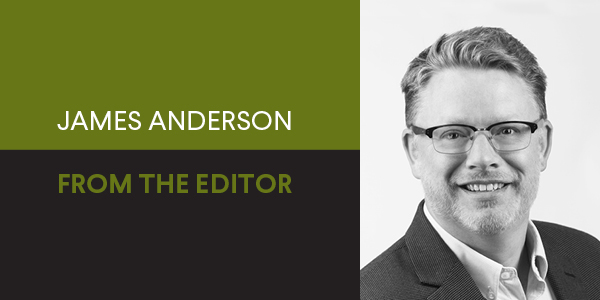 Each year at this time, around the International Builders' Show, we speak with manufacturers sharing product introductions and innovations that they hope will find their way to our readers' inventory, and eventually into the hands of builders, remodelers, and homeowners. We welcome these conversations from our loyal advertisers and others, and we value the role our magazine plays in connecting the two ends of the distribution channel.
When most manufacturers have finished demonstrating (or this year finishing their Zoom calls in place of in-person demos at the builders' show) they inevitably ask the question, "What are you hearing from dealers?"
My answer so far this year has been that the dealers I've spoken with are predicting a strong year ahead, one that might rival 2020 numbers or be even better now that COVID-19 precautions are in place and there's a bit more accuracy in projections. What worries dealers, I point out, are supply chain delays.
While I don't have an answer for the dealer who is hearing from the builder, who is hearing from the homeowner that a project is delayed, I certainly have empathy for everyone in the process. A house on my morning dog walk route has been re-sided since August and is still awaiting stone veneer. I assume it's delayed because supply is running low from that particular manufacturer, and the homeowner and contractor are patiently waiting for it. I joked with a neighbor that the only one happy in that situation might be the housewrap manufacturer who has displayed its logo free of charge for six months. Joking aside, homes are still being built, materials are being sold, and waiting for products here and there isn't the worst thing happening in the world.
I spoke with a lumber dealer recently who said that he had a custom homebuilder in his office who was threatening to shop elsewhere because materials shortages have delayed a major project. I don't know if that situation occurs often in many other parts of the country, but the potential is there, and that has piqued attention up and down the supply channel. Manufacturers I've talked to have confirmed that they've heard similar complaints. They've also told me how they've ramped up production and optimized distribution to reduce wait times.
I mention this because as I fielded the question, "What are you hearing from dealers?" recently, it reminded me to let our readers know that while LBM Journal serves as an information source for lumber and building supply dealers and hardware retailers to learn about manufacturers' offerings, it's also where manufacturers turn to learn of the challenges that dealers (their biggest customers) are facing.
I invite you, dealers, to reach out to myself or our Publisher and Executive Editor Rick Schumacher to let us know if there is a business issue you are facing that you think other dealers may be struggling with as well. I encourage you to participate in our features such as Real Issues. Real Answers. and our Tough Call monthly segments. Each article is based on challenges that we hear from readers. If you'd rather send us an email about an issue you think we should address, please do. The least we can do is pass along your information, and the best we can do is help find a solution that also improves business for other LBM Journal readers.
— James Anderson
Editor