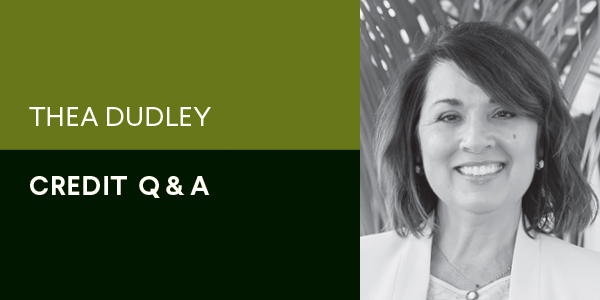 Dear Thea,
We have a customer who has been paying much later than their granted credit terms. We had to place them on a cash-on-delivery status for quite some time because of their chronic late payments. The customer is inquiring about charging on their account again, and after speaking with the branch manager, we do not feel comfortable at this time reinstating their terms. Do you by chance have a letter template that we can use to send to this customer stating they no longer have credit terms with us?
– Ain't Seeing That Movie Again in Arkansas
Dear Ain't Seeing,
I once had a customer tell me "past performance is not indicative of future results.'' This was in response to me telling him that  the  only indication I had for their payment performance moving forward is their history with us. That quote works well for the New York Stock Exchange risk disclaimer, but frankly does not apply to how a customer pays his bills.
No letter template is going to address this and frankly, I don't recommend sending one. Put on your big girl credit manager pants and pick up the phone.
Call the customer directly and explain the situation. Due to his repeated past due status on the account, you are not at this time able to offer terms. Invite him to continue to purchase on your COD program and let him know that he is welcomed to reapply for credit terms in six months, when you will re-evaluate his credit history.
A conversation may allow you to save the account, and maybe at some point get it back on a good path. Why are they chronically late? Is the account set up with the correct terms for the type of work they do? Is there a delay in their receiving the invoices? What is the issue that is keeping them from paying you timely? They'll either answer you or cuss you out and hang up.
Either way, a conversation is always better than a letter. You will end up having a conversation anyway once they receive the letter. The customer will not understand and will not be happy and will reach out to you or to their sales rep and want to talk about the unfairness of it all. Skip that step and jump into the conversation.
Lots of customers would like to dictate terms and take longer to pay than what you originally bargained for. If you are a partnership, then one cannot feel violated and like they're left holding the bag waiting for the other to do the right thing. Remind them, sometimes not as gently as they would like, that you had a deal and you lived up to your end of the bargain. How would they feel if the products didn't show up on the job site on the assigned day and time? What if it showed up sometime between 30 or 90 days after the order date?
It is hard to argue with that logic, although many have tried. If we are dependent on one another for success, then we each take care to uphold ourselves to the agreement. I remind them the same way I remind my kids: You are free to make your own choices, but you are not free of the consequences. Ah…adulting never ends.
With more than 30 years of credit management experience in the LBM industry, Thea Dudley consults with companies on a wide range of credit and financial management issues. Contact Thea at theadudley@charter.net